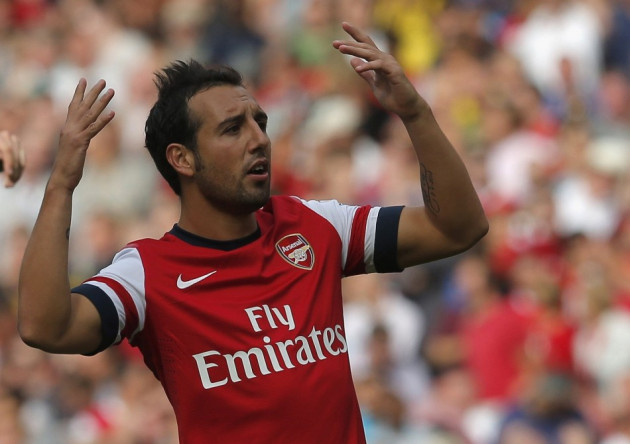 Arsenal playmaker Santi Cazorla claims that David Moyes is the right manager for Manchester United but believes the transition from Sir Alex Ferguson is going to take a while.
Manchester United's crisis increased last weekend after Moyes' team suffered two successive home defeats by Everton and Newcastle. United are ninth in the table, 13 points behind Premier League leaders Arsenal and seven points off the top four.
Cazorla believes that Moyes has already proved his potential at Everton, and has the ability to turn around United's struggling start to the season.
"Replacing Ferguson is very complicated after so many years. He won many tittles and now the bad results do not help. But David Moyes did well at Everton and I think that if they give him time he is going to build a competitive team again," Cazorla told Spanish radio station Cadena Cope.
However, the Spaniard sees Manchester City and Chelsea as Arsenal's two biggest opponents in their quest to win their first Premier League title since 2004.
"Manchester City and Chelsea are very big. City have an amazing squad, I know Pellegrini and he is going to do big things for the club. Chelsea are in a bad moment right now but they will be contenders for the Premier League tittle.
"The last few years without titles have meant that many people do not trust in us. Some people do not believe that we can win the league but we know that if we keep this level we can compete with the big clubs. Until this moment we are the best and I want to keep the lead."
The Arsenal star also praised Ozil once again after the German scored a in the 1-1 draw against Everton.
"Ozil is scoring goals. He needs more time but he is happy here because the manager gives him the freedom he needs."
Arsenal are now focus on their final Champions League group match against Napoli, in which they will secure a place in the lastr 16 if they avoid defeat by more than three goals.
"The game against Napoli is going to be a final. It would be unbelievable to do not go through the next round with 12 points. It is going to be a difficult game because Napoli's life in the competition depends on this game.
"I would like to see Napoli going through because I have friends there but the most important thing is our qualification."
If Arsenal going through to the next round, Cazorla hopes they will avoid the Spanish teams in the draw.
"I do not want any Spanish team in the last 16. Barcelona and Real Madrid are favourites to win the title while Atletico Madrid are one of the strongest team in the world right now."