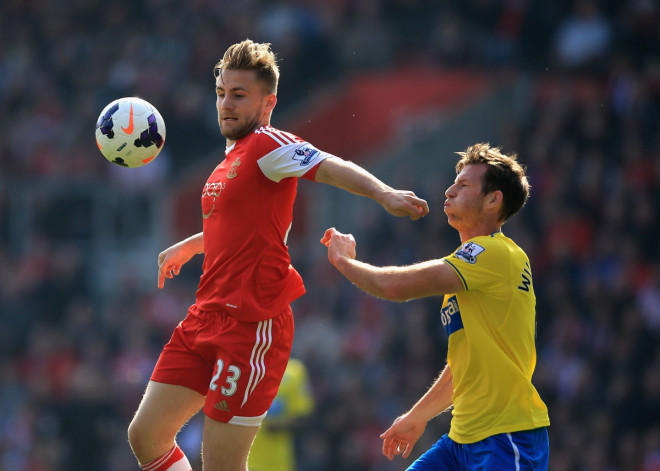 Manchester United's deal with Southampton left-back Luke Shaw is under threat after the Red Devils announced that Patrice Evra has signed a new one-year extension at the club, according to the Guardian.
The Red Devils were favourites for his signature and were deemed to have beaten arch rivals Chelsea for the youngster, after having agreed a £27m fee with the club. However, Shaw is sceptical of his first team chances after the club offered Evra an extension, with the Frenchman expected to start ahead of Shaw next season.
The 18-year-old is believed to have been handed a £100,000 a week package at United which will make him among the highest paid teenagers in Europe.
However, the defender is concerned about his first team chances and would rather stay at St Mary' next season to continue his development than make a move to Old Trafford where he may be relegated to the bench.
The recent developments will come as a major setback for United, who only have Alexander Buttner as back-up for Evra in the absence of Shaw. His refusal to come may also instigate Chelsea to make an offer with Jose Mourinho looking at a natural successor to Ashley Cole, who has been released from the club.
The Blues are unwilling to match Southampton's asking fee and are believed to be offering Shaw a salary in the range of £60,000 a week, a major drop from what he may earn at United.
However, Shaw is likely to make a decision after the World Cup in Brazil where he has been selected alongside Leighton Baines for the left-back position. A good performance in Brazil is likely to increase his valuation and force United to increase their bid.
The Red Devils are planning an elaborate transfer window with new manager Louis van Gaal expected to be handed a sizeable amount to spend on transfers. The Dutchman has earmarked Mats Hummels, Toni Kroos and Kevin Strootman among others, to bring in to the squad once he takes office after the World Cup.