Leighton Baines would look to force a move away from Merseyside, if Everton fail to finish in the top four this season, according to Goal.com.
The England international, who is having a yet another excellent season with the Toffees, has never played in the Champions League and is now looking to follow in the footsteps of former teammate Mikel Arteta, who moved to Arsenal in 2011 for a taste of European football.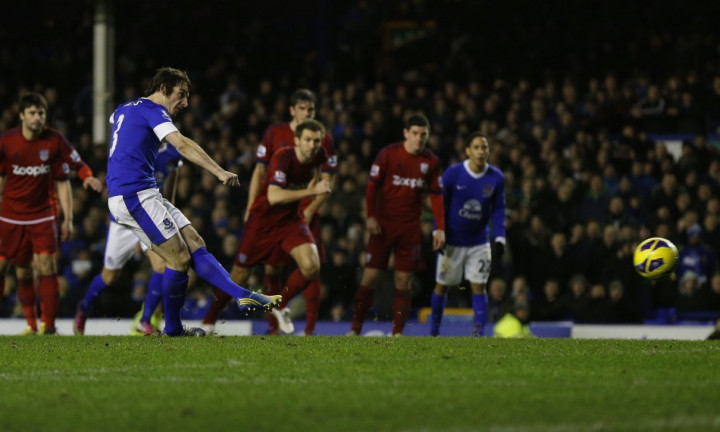 Baines, 28, has only a few more good years left in him before age catches up and is now understood to be open to leaving Everton and move to a top club, which regularly challenges for trophies and European glory.
Both Manchester United and Arsenal were previously linked with a move for Baines but after the Gunners bought Nacho Monreal from Malaga in January, the Red Devils became top contenders for the Everton ace. Sir Alex Ferguson had brought in Dutchman Alexander Buttner as an understudy to Patrice Evra in the summer but the youngster is more likely to remain a back-up to the France international, and not become his long-term replacement.
The report claims David Moyes wants £20m for Baines, but with Evra in sublime form of late, it is unlikely that Ferguson would be willing to cough up such a big transfer fee for Baines, citing reservations over his age.
As things stand, Everton have to contain a mass exodus in the summer, with midfielder Marouane Fellaini also expected to move away from Goodison Park. The 25-year-old remains strongly linked with Chelsea and has already given the Blues the go-ahead to table a bid for him.
Everton's only chance of retaining their star players is to finish in the top four but they have faltered in recent matches and are currently six points behind fourth-placed Tottenham Hotspur and two points behind Arsenal, who are fifth.