Everton midfielder Marouane Fellaini is reportedly ready to leave Goodison Park, after five seasons with David Moyes' side. London rivals Arsenal and Chelsea have been linked with a January bid for the 24 year-old Belgian international.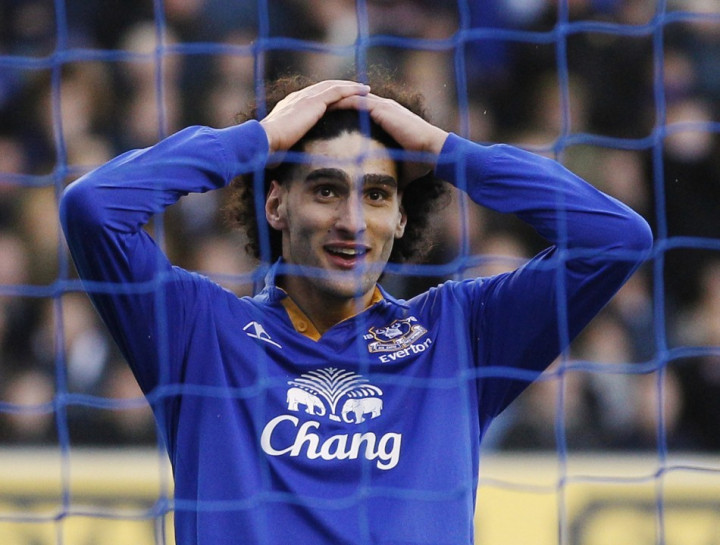 Fellaini was quoted, earlier this season, as saying he would leave the club for the promise of Champions League football. However, he rapidly backtracked on those comments and insisted he wanted to remain with the Toffees for the foreseeable future. Moyes has admitted that his star could leave, but said he remained unconcerned until a bid is actually made. The player's contract runs until 2016.
Reports in the Mirror suggest both Roberto Di Matteo and Arsene Wenger have their eyes on the Belgian, with a £30m fee mooted. The amount may not be significant for the big-spending Blues, but represents an almost inconceivable outlay for the financially prudent Gunners, even if they have been linked with a similarly sized bid for Napoli forward Edinson Cavani.
Cost aside, Wenger seems to believe Fellaini can give his side the boost it needs to climb back into the Champions League positions. The Emirates club is currently struggling in seventh, four points off the final Champions League spot which, incidentally, is held by Everton. The departure of Cameroon international Alex Song to Barcelona in the summer and recurring injuries to France midfielder Abou Diaby means Wenger is short of experienced cover in the midfield for Spain's Mikel Arteta. 20-year-old England man Jack Wilshere is, of course, an option. However, the youngster is being eased back into competitive football after a 15-month injury lay-off and more cover for an injury-prone squad sounds a good idea.
Meanwhile, at Stamford Bridge, Di Matteo believes Fellaini will provide balance to a midfield loaded with attacking options. The Everton player's national team-mate, Eden Hazard, has developed a reputation for not tracking back to help his defenders and that often poses problems for the side. In addition, Di Matteo must also plan for the future, with 34-year-old Frank Lampard (linked with a move to China) no longer an automatic first team choice, and long-serving Ghanaian Michael Essien out on loan with Real Madrid.