Manchester United have entered the race to sign Napoli striker Edinson Cavani in the summer amid interest from Chelsea and Real Madrid. The Mirror reports that the Red Devils are willing to pay up to £50m for the Uruguayan as doubts remain over Wayne Rooney's future at the club.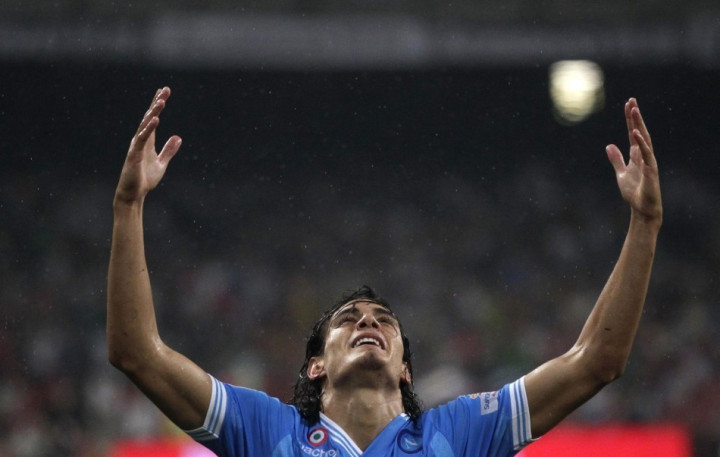 David Moyes is reportedly keen on playing two up front and Rooney's departure will open up a place for Cavani who has a similar goal scoring record to the England international. The 26-year-old, who is currently in Brazil for the Confederations Cup, has scored 29 goals in only 34 appearances in the league in the recently concluded season for the Italian giants and will make United's bid for a title defence all the more stronger, especially with Chelsea, Manchester City and Arsenal strengthening.
However, Chelsea are believed to have struck a deal with Napoli after Napoli's official radio station Radio Marte announced, "We have received news in the office from a very reliable source that Napoli have sealed a deal with Chelsea for Cavani's sale."
"Rafa Benitez also gave the all-clear, but before making the move official Napoli want to secure the striker who will replace Il Matador. Aurelio De Laurentiis' club will pick up around €58m, a slight discount on the buy-out clause, which is the same situation as Ezequiel Lavezzi to PSG last year. The player will earn €8.5m per season plus image rights," they added.
Meanwhile, Napoli president Aurelio De Laurentiis is tired of the speculation surrounding his player and insists that everything will be completed before the 20th of July. He is hoping that the player will extend his stay at Napoli beyond the summer but wants his decision to be made sooner rather than later.
"Will I let Cavani go before August 10? I trust in the man, then if he doesn't want to it'll be a joke on me. However, I believe he is a real man and will therefore remain at Napoli. If he does decide to go, it will in any case be after the Confederations Cup. We will know everything by July 20. If not, I'll smack him!" he told Radio Rai.
Cavani expressed his displeasure at the words used by the President by stating, "Those statements were strong and I didn't really like them very much. Now I want to speak with the president face-to-face, as I have done on numerous occasions in the past."