Napoli president Aurelio de Laurentiis has revealed only Real Madrid have made a "firm offer" in the race to sign Uruguay striker Edinson Cavani this summer. The 26-year-old has also been linked to Chelsea and Manchester City but the Serie A club's asking price of £54m is proving to be problematic.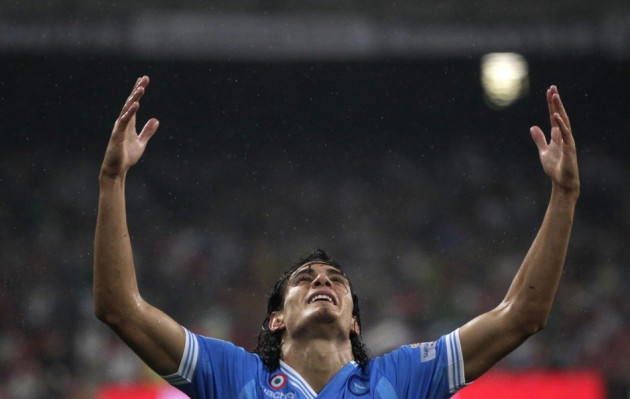 "Manchester City don't have the money to pay him. Chelsea have been going on about him for ages. But for now Real Madrid is the only club to have made a firm offer for Cavani," de Laurentiis told AS.
Both English clubs are believed to be keen on signing the South American star, with Fernando Torres and Carlos Tevez expected to make way at Stamford Bridge and the Etihad respectively. However, there are a few complications, aside from financial issues.
For one thing, de Laurentiis believes Cavani will not want to go to a club where he is not first choice, as he is at Naples. The Italian explained: "At Napoli Cavani is the main man, at Real Madrid he would be one of many. It's normal that if Real Madrid call you, you listen... but we've talked to him, and we've advised him."
The second possible complication, as far as Cavani moving anywhere at all, is that Napoli's new manager, former Chelsea and Liverpool boss Rafael Benitez, is unwilling to let his star striker leave. The Spaniard replaced Walter Mazzarri earlier this summer but has not yet spoken to Cavani, who is with his national squad for the 2013 FIFA Confederations Cup in Brazil.
"I'll talk to him when he gets back [from the Confederations Cup]. I want him to be with us. I hope to speak to him and convince him to stay here. He's a great player, everybody talks about his ability and I hope he's here with me," Benitez said.
Meanwhile, as far as City's non-existent bid is concerned, the former Premier League champions may be stalling to gather funds. The club have already spent close to £50m in signing Brazilian midfielder Fernandinho and Spanish winger Jesus Navas. A further £54m (Cavani's release clause) is unlikely to impress UEFA, who will be monitoring clubs' activities through the Financial Fair Play (FFP regulations.
One option for Manuel Pellegrini's new club is to sell existing players to raise funds and clear spaces. And Argentine striker Carlos Tevez could be the man sacrificed. The 29-year-old was linked to Napoli's domestic rivals AC Milan but The Sun believes that deal has now been put on ice, for reasons similar to City's move for Cavani.
Meanwhile, de Laurentiis wants Cavani's future sorted quickly.
"I trust in Cavani, I think that he's a good man and he has the opportunity to prove it by staying at Napoli. Does anyone think that I'll let Cavani leave on 10th August, with the league campaign about to kick off? I think that the Cavani 'soap opera' will come to an end on 20th July, which is when he returns from the Confederations Cup," the president told Radio Rai.