Everton have told Manchester United to cough up £30m if they want to sign Belgian midfielder Marouane Fellaini, according to talkSPORT. The 25-year-old is believed to be an important target for the Premier League champions, following their failure to sign Cesc Fabregas and Thiago Alcantara from Barcelona.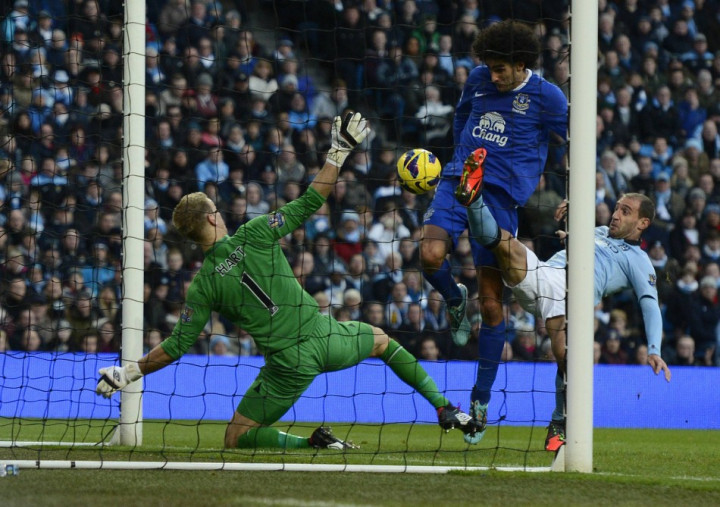 New United boss David Moyes has made no secret of the fact he wants to reinforce his central midfield and first settled on Spain youngster Alcantara. However, the 22-year-old snubbed Old Trafford officials to rejoin former Nou Camp boss Pep Guardiola at Bayern Munich.
United then shifted their attention to former Arsenal captain Cesc Fabregas. But despite two bids, the second of which was £30m according to Sky Sports, the Spain international has made it clear he has no intention of returning to England just yet.
All of this leaves Moyes with a return for his former star. Fellaini rose to his present position as one of the Premier League's best midfielders under the Scot and is believed to be eager to continue that partnership at Old Trafford.
The talkSPORT report believes Fellaini could have been available for as little as £22m in July, thanks to a specific clause in his contract. However, that offer has since expired, meaning the Toffees now have the upper hand in negotiations. Fellaini's contract at Goodison Park runs to 2016.
United lost a key central midfielder in Paul Scholes; the 38-year-old ex-England international retired from professional football, for the second time, earlier this summer. And with Darren Fletcher still battling a bowel condition, Moyes has only Michael Carrick, Tom Cleverley and Anderson as central midfielders.
The champions were also linked to Juventus star Claudio Marchisio. The 27-year-old is valued at close to £30m as well and was quoted as saying he was flattered by attention from United. However, he has now backtracked on those comments and says he is happy to stay with the Serie A champions.
"I am staying here. I am happy at Juventus, but the fact that rumours keep emerging around me every summer is starting to get on my nerves," Marchisio explained.