Manchester United are reportedly planning a bid for Everton defender Phil Jagielka in the summer. David Moyes is a huge fan of the 30-year-old and is looking to bring the player as a replacement for Rio Ferdinand who will turn 35 in November.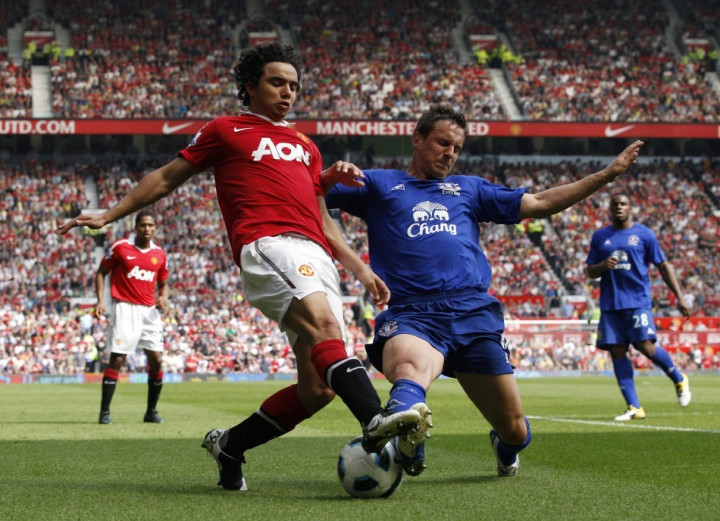 The Sun reports that the England international will be made available for a fee of £10m and is the third Everton player on Moyes' hitlist after Marouane Fellaini and Leighton Baines to make the trip to Old Trafford. The defender has been an integral part of the Everton setup this season, starting 35 games in the league in which he scored two goals and assisted one. A source close to the Sun has revealed that Moyes admires the England international and will be top on his list if he decides to come back for an Everton player.
"David loves Jags from top to bottom. He describes him as 'absolute class'. If there is one player from here he will come back for, it will be Jags. They get on great and David considers it a pleasure to work with him," the source said.
Jagielka's pursuit will put a huge question mark on Rio Ferdinand's future at the club, with the Red Devils yet to offer him a new contract. However, United do have an array of young defenders to fall back on alongside Nemanja Vidic, with Chris Smalling, Jonny Evans and Phil Jones all showing glimpses of their talent this season.
Ferdinand wants United stay
Rio Ferdinand has revealed that he wants to extend his stay with Manchester United beyond the end of the season and has urged the Red Devils to offer him a new contract. The England international believes that United have a bright future ahead of them under David Moyes and insisted that he would like to be a part of the same.
"Manchester United has a bright future. The manager has left the club in great health and we are looking forward. We have a great number of good young players who are eager to win things and be successful and work hard. That is what the manager has instilled in these players. The work ethic has to continue if we are going to be successful. I would like to be part of that," he said in an interview with MUTV.