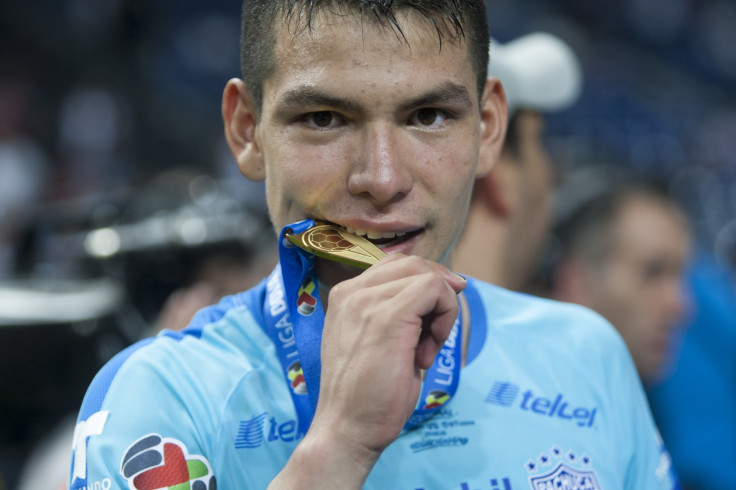 Manchester United target Hirving Lozano will likely miss the beginning of the 2016-17 season – if he signs for the club – after the Pachuca winger was named in the Mexico squad for Rio 2016.
Lozano, 20, has been strongly linked with a move to Old Trafford after Pachuca vice-president Andres Fassi revealed to ESPN the club had held talks with United over a move. Those claims were however disputed by club manager Diego Alonso, who insisted there is no agreement in place.
Lozano himself welcomed interest from the Premier League giants, but admitted he was unaware of any talks between the two sides.
Any move is likely to be put on hold until August, however, after he was officially named in the 18-man Mexico squad looking to win another gold medal at in Rio this summer.
Raul Gutierrez's squad will meet up for training camps later this month before departing for Rio on 30 July. They kick off their campaign against Germany on 4 August and, should they match their run to the final of the competition as they did in London 2012, will remain in Brazil until 20 August.
Lozano's involvement would seemingly put a move to Old Trafford on hold until after the competition. If any deal were struck, he would miss most of the club's pre-season campaign as well as the start of season in the Community Shield clash against Leicester City on Sunday 7 August and the Premier League opener against Bournemouth on 14 August.
Lozano's father-in-law has also suggested a move to Old Trafford cannot be completed until after the Olympic campaign. For the time being, however, the player says he is in the dark over any proposed move.
He told Mexican website record.com: "I don't know anything about United's interest. If the club tell me anything, then we will see, but I don't know anything about it at this stage."
United have already invested in their squad this summer with Eric Bailly, Zlatan Ibrahimovic and Henrikh Mkhitaryan all joining Jose Mourinho at Old Trafford.