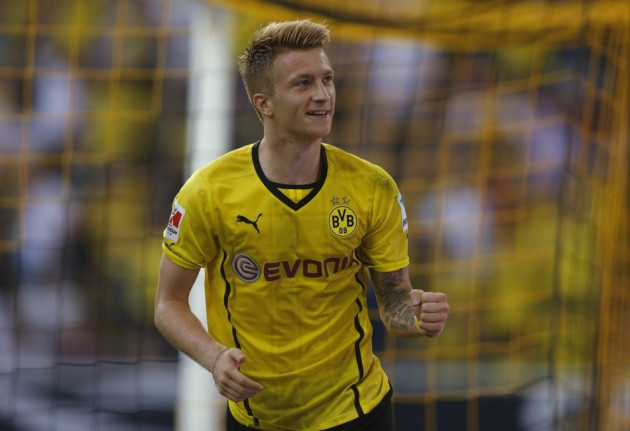 Manchester United are planning a £25m bid for Borussia Dortmund midfielder Marco Reus, according to the Metro.
The Red Devils will face competition from Arsenal who have a keen interest in the forward and are likely to match any fee that United are willing to shell out on the German international. David Moyes is looking to strengthen his side in January, having failed with bids for Cesc Fabregas, Ander Herrera and Thiago Alcantara. The former Everton man believes that Reus would significantly improve their attack.
Moyes is planning a swap deal which would see Shinji Kagawa make the trip back to Dortmund after failing to make the cut at Old Trafford. Moyes has been promised funds to spend in winter and the Red Devils are also looking at potential defensive targets, with Ezequiel Garay still in the reckoning.
United will have a tough job fending off Arsenal. The Gunners are bringing together a German contingent that already boasts the likes of Lukas Podolski, Per Mertesacker, Mesut Ozil and Serge Gnabry which may sway Reus's mind. Moreover, the 24-year-old's boyhood idol, Tomas Rosicky is an integral part of the Arsenal setup and should the Gunners make a bid, the Czech Republic international's presence may influence Reus to go to the Gunners.
Reus has already scored nine and assisted five in all competitions this season and is likely to attract interest from a host of other clubs should he be made available. Meanwhile, Moyes is pleased with how his attack is shaping up after a period of nonchalance and hailed the likes of Robin van Persie and Wayne Rooney following their win over Fulham.
"There were real signs of great combination play between them,' he beamed. 'I think they both made a goal for each other. There was good link-up play and it was great they both got on the score sheet. That's what forwards do and I've always said you need them both to score a lot of goals to be successful. They're both incredibly talented and understand each other," Moyes said.