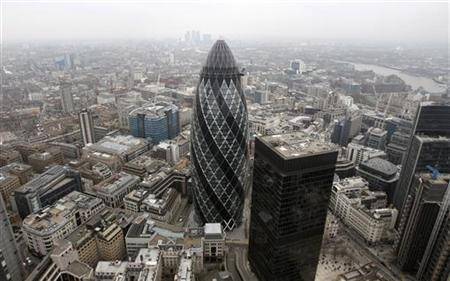 Britain's shareholder revolt against executive pay packages is likely to intensify after an industry report revealed that FTSE 100 CEOs had a median total pay increase of 10 percent for last year, following a 13 percent hike in 2010.
According to a proxy voting agency Manifest and independent share plan consultancy MM&K's 'Executive Director Total Remuneration Survey for 2012,' one quarter of FTSE 100 chiefs received increases in Total Remuneration Awarded of 41 percent or more.
The total remuneration increases were mainly due to a combination of increases in deferred bonus and long-term incentive awards.
Stripping out these elements, the median increase of FTSE 100 CEOs basic salaries rose by only 2.5 percent in 2011. Bloomberg's FTSE 100 Total Return Index, which factors in share price movements and re-invested dividends, fell 1.66 percent over the past 52 weeks.
"These results highlight two things," says Cliff Weight, director of the independent remuneration consultant MM&K. "First, that the main problems with corporate governance and pay are in the very largest companies, where directors' remuneration is only a small percentage of costs, profits and shareholder value and there is little to stop remuneration continuing to increase. Secondly, most mid-cap and small companies have generated much better returns and have simpler and less generous remuneration structures than FTSE 100 companies."
The significant rise shows FTSE 100 remuneration committees and boards continue to award total pay increases well above general pay increases and inflation.
While the survey does not display results for shareholder dividends, the results of the 2012 proxy season are leading a revolution in traditional approaches to directors' bonuses and overall pay packets.
'Shareholder Spring'
Over the last year, there has been a significant schism in shareholders and executive pay, with several companies having lost the remuneration report vote or have had very large votes against and/or positive abstentions.
Sir Martin Sorrell, the CEO of advertising giant WPP, will be the latest executive to face a shareholder backlash over a proposed pay rise, as many advisory groups and leading stockholders claim that his new wage is out of sync with investor returns.
According to Reuters, a "number of advisory groups and leading shareholders at WPP say they will vote against the proposed increase for the chief executive," after Sorrell proposed a 60 percent rise to his annual pay award.
Previous to this, Andrew Moss, chief executive of British insurer Aviva, infamously stepped down earlier last month, just days after shareholders voted against his remuneration plans.
Moss was due for a 5 percent pay rise, which would have taken it to £1m a year. In 2011, he earned nearly £2.7m from his total remuneration package, which included a £951,000 salary, £1.16m in stock and cash bonuses, a £480,000 long-term incentive plan and a further £98,000 in other benefits.
Meanwhile, Barclays Chairman Marcus Agius apologised to shareholders at the bank's annual general meeting in April this year, over "poor communication" on the remuneration packages of CEO Bob Diamond.
RBS' CEO Stephen Hester has similarly had to fend off revolting shareholders over this bonus and executive pay package.