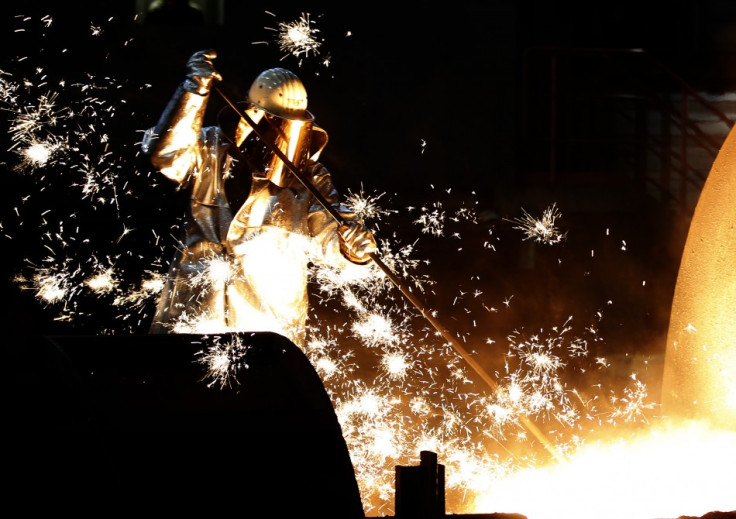 FTSE 100 shares were down by more than 3% after weak UK manufacturing figures helped temper the effects of a rebound in China.
Aerospace and defence manufacturer Meggitt was the only riser on the index as it closed down 189.4 points (-3.3%) at 6,058.54. The loss came after Markit's PMI fell from 51.9 to 51.5 in August, well below its average for the past two-and-a-half years. "The survey indicates that UK manufacturers are continuing to find life very challenging as they are being held back, particularly by weak foreign orders," Howard Archer from IHS Global Insight said.
Earlier, the Shanghai Stock Exchange 50 index, comprising the 50-largest firms by market capitalisation in Shanghai, closed the day up 0.86% at 2,229.45. The minor gain came in frantic afternoon's trading and wiped out daily losses of 4%. FTSE-listed minors Glencore, Anglo American and BHP Billiton bore the brunt of the tumult, losing a combined 147 points between them.
Despite the rise, Michael Hewson, chief market analyst at CMC Markets UK, said turmoil in the Chinese stock market and a possible US rate increase weighed European indices down. "Concerns about Chinese growth as well as the prospect of a US rate rise have seen European markets come off their worst monthly performance since 2011, though that does have to be tempered somewhat by last week's strong rebound," Hewson said.
FTSE 100 biggest risers
Meggitt +11.30 +2.37% 488.70
FTSE 100 biggest fallers
Glencore -14.80 -9.98% 133.50
Anglo American -56.60 -7.64% 684.40
BHP Billiton -76.00 -6.71% 1,056.00
3i Group -32.60 -6.63% 459.20
Old Mutual -12.80 -6.39% 187.40

FTSE AIM 100 biggest risers
Petroceltic International +7.50 +14.02% 61.00
Velocys +3.75 +4.45% 88.00
GB Group +9.75 +4.39% 232.00
Johnson Service Group +3.50 +3.98% 91.50
Iomart Group +9.50 +3.89% 253.75
FTSE AIM 100 biggest fallers
Falkland Oil and Gas -2.50 -10.53% 21.25
Avanti Communications Group -15.00 -6.20% 226.75
Pan African Resources -0.46 -6.05% 7.14
Optimal Payments -17.25 -5.42% 300.75
Utilitywise -8.75 -5.34% 155.25