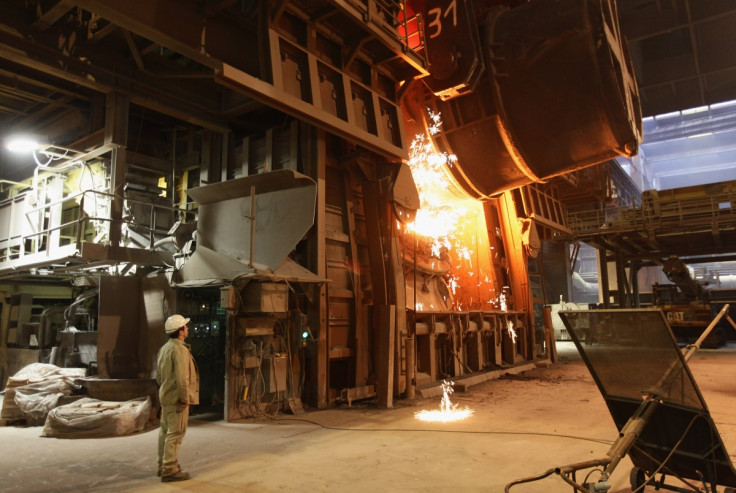 European stock markets bounced back up on 19 January, following a rough start of the year for investors. Miners led the way for FTSE 100 listed companies, with the bluechip gaining 1.6%.
The FTSE jumped despite news that China's GDP grew by 6.9% in 2015, the lowest growth rate in 25 years. The disappointing data sparked speculation that the People's Bank of China would impose further stimulus.
The Chinese data largely met market expectations, following panic calls in 2015 over the country's slowing growth. Experts expect China's ruling People's Party to keep the economic slowdown under tight control.
After being battered significantly by China's slump, miners and commodity traders bounced back up, showing that investors are slightly more bullish on China's situation. The previously troubled FTSE 350 mining index rose more than 6.7% by early afternoon, but fell back slightly, resulting in a 1.9% jump at the end of the day.
It was not all good news for miners, however. Metal giant Fresnillo fell 1.9% on 19 January, after JPMorgan Chase downgraded the company's share. The bank lowered Fresnillo's target price by almost 10%. Gold miner Rangold Resources fell more than 2.2% following the news that it had signed a joint venture with Kilo Goldmines in the Democratic Republic of the Congo.
Joining Fresnillo, supermarket chain Tesco led the few falling companies on the British bluechip. The grocer has almost lost all its gains since it reported a better-than-expected Christmas trading period on 14 January. In the six weeks to 9 January, the grocer managed to hike its UK sales by 1.3%. On 19 January, Bloomberg reported that Odey Asset Management bought up a stake in Tesco, but it could not save the grocer's share price from falling.
Housebuilders Berkeley and Persimmon was among the biggest FTSE risers, following the news that UK property prices jumped 7.7% in the year to November. Data published by the Office for National Statistics showed that prices accelerated, having increased 7% in the 12 months to October 2015.
FTSE 100 risers
TUI AG +64.00 (+5.47%) 1,234.50
Glencore plc +3.77 (+5.02%) 78.93
Berkeley Group Holdings plc +141.00 (+4.11%) 3,571.00
CRH plc +67.00 (+3.82%) 1,820.50
Old Mutual Plc +5.70 (+3.75%) 157.55
FTSE 100 Fallers
Randgold Resources -96.00 (-2.20%) 4,277.00
Fresnillo -13.00 (-1.93%) 661.75
Tesco plc -2.60 (-1.61%) 158.97
Pearson plc -6.50 (-0.94%) 685.25
Shire plc -30.00 (-0.71%) 4,218.00
FTSE 250 risers
Ocado Group plc +16.60 (+6.85%) 259.10
Evraz plc +3.40 (+5.81%) 61.95
Vedanta Resources Plc +8.60 (+4.18%) 214.40
PZ Cussons Plc +10.30 (+3.85%) 277.70
Just Eat plc +16.20 (+3.84%) 438.20
FTSE 250 fallers
Euromoney Institutional Investors plc -60.50 (-6.13%) 926.00
Telecom Plus plc -34.00 (-3.74%) 874.00
CLS Holdings plc -62.00 (-3.69%) 1,616.00
Allied Minds plc -9.90 (-3.36%) 285.10
Just Retirement Group plc -4.50 (-2.85%) 153.50