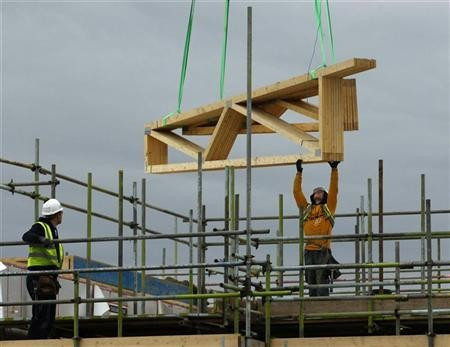 The construction sector in the UK expanded for a second month in a row in June on increased housing activity, adding to signs that the economy's recovery has gathered pace in the second quarter.
The Markit/CIPS construction Purchasing Managers' Index (PMI) increased to 51.0 in June, the fastest pace since May 2012, from 50.8 in the previous month. The reading, however, slightly missed economists' expectations of 51.1%.
A reading above 50 indicates expansion in the sector.
"June's construction data is one of the final pieces in the puzzle when it comes to survey evidence for second quarter UK economic performance, and the sector's upturn adds to the upbeat news flow ahead of Mark Carney's first policy meeting at the Bank of England later this week," Tim Moore, senior economist at Markit, said in a statement.
"The improvement in overall construction output simultaneously raises chances of strong second quarter UK GDP growth, and reduces the likelihood of imminent additional policy stimulus from the Bank of England."
Markit noted that the overall output in the sector increased in June primarily due to a fifth consecutive monthly rise in residential building activity.
"House building remains the mainstay of growth, helped by government incentive schemes, while it was also encouraging to see civil engineering and commercial building stabilise after protracted declines in 2013 so far," Moore noted.
The Bank of England's Funding for Lending and the government's recently announced Help to Buy schemes have been helping home buyers in the country with cheap mortgages and eased loan requirements.
Markit added that business activity stabilised in the commercial and civil engineering sub-sectors, ending long periods of decline.
A solid rate of new order growth in June, hitting a 13-month high, resulted in rising levels of employment in the sector, according to Markit.
In the survey, based on more than 170 construction companies, about 41% firms anticipate a rise in business activity in the sector, the strongest since April 2012, while 10% expect a drop.
After recording a 0.3% growth in the first quarter, the UK economy is widely expected to expand at a higher rate in the second quarter.
Earlier, the British Chambers of Commerce said that Britain could see a second-quarter growth rate of 0.6%, if recent progress is sustained.
In further signs of the country's economic recovery momentum, Markit's June manufacturing purchasing managers' index showed activity rising at the fastest pace in more than two years, while last week's GfK consumer confidence barometer rose to the highest level since May 2011.