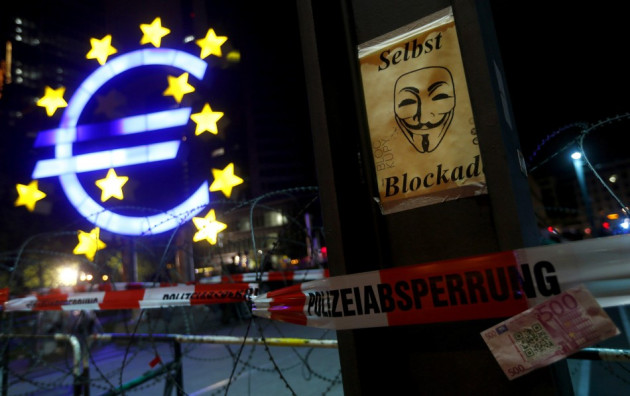 The downturn in the eurozone's manufacturing activity eased in May, for the first time in four months, as the major economies in the area recorded better-than-expected manufacturing data.
The seasonally-adjusted Markit Eurozone manufacturing Purchasing Managers' Index (PMI) rose to a 15-month high at 48.3 in May from April's four-month low of 46.7. The final reading, which indicates the slowest pace of contraction since February 2012, was also better than the flash estimate of 47.8 announced earlier.
Markit notes that business conditions still deteriorated overall, with the downturn extending to a twenty-second month. A reading below 50 indicates contraction in the sector.
Among major euro area economies, Spain saw the biggest growth for the month, with the PMI rising to a two-year high. The index rose to 48.1 in May from 44.7 in the previous month.
The German PMI signalled the slowest rate of contraction overall and moved close to the stabilisation level as output and new orders both rose for the first time in three months. The final Markit/BME Germany PMI rose to a three-month high at 49.4 from 48.1 in April. The flash PMI reading for May was 49.0.
Meanwhile, the Markit France manufacturing PMI rose to a 13-month high at 46.4 from 44.4 in April and the Markit/ADACI Italy manufacturing PMI climbed to a four-month high of 47.3 from April's mark of 45.5. The PMI for the crisis-hit Greece showed a May reading of 45.3, a 23-month high, up from 45.0 in April.
The data indicates that the downturn is easing across the currency bloc, despite price deflationary pressures amid further decline in input costs and output prices.
However, the improvement is not sufficient to bring the eurozone economy back into the growth track, according to Markit.
"Despite the final PMI coming in above the flash reading, the surveys still suggest that GDP is likely to have fallen 0.2 percent in the second quarter, extending the region's recession into a seventh successive quarter," said Chris Williamson, chief economist at Markit.
The European Central Bank (ECB) is under pressure to undertake policy easing due to the ongoing recession in the single-currency region. Last month, the central bank lowered its key interest rate to a record low of 0.5%, and its chief Mario Draghi said that the bank will cut rates again if the area's economy deteriorates further.
"Policy makers will nevertheless be pleased to see the downturn not getting any worse, suggesting the ECB will see no immediate need for further action at its June meeting," Williamson added.