Los Angeles and San Diego could be hit by a massive tsunami created by little-known offshore faults, a study has found.
Researchers have said there is the potential for very large earthquakes and tsunamis generated by several major faults out to sea off Southern California and northern Baja California.
The study, published in the Journal of Geophysical Research: Earth Surface, found the faults are capable of producing a magnitude eight earthquake.
The vertical fault zones, the authors say, have also displaced the seafloor in the past – meaning it could send out a tsunami towards the cities of Los Angeles and San Diego.
Study author and geologist Mark Legg, from Legg Geophysical in California, has been trying to create a better picture of the faults beneath the sea in the area.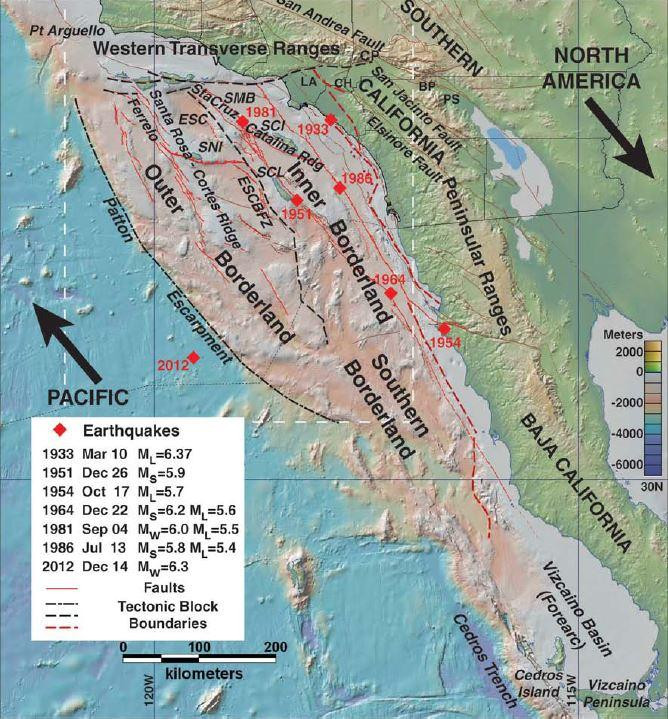 Legg says there is a "logjam" offshore, where blocks of the Earth's crust are caught between the North American and Pacific tectonic plates. The blocks are wedged together from the San Andreas Fault to the east and the edge of the continental shelf on the west, around 200km out to sea.
These blocks get squeezed and rotated as the plates slide past one another. "We're dealing with continental collision," he said. "That's fundamental. That's why we have this mess of a complicated logjam."
Researchers looked at the structure of two of the larger seafloor faults to see how much they have slipped over time, and if this slip caused the seafloor to move upwards. They found that along the Santa Cruz-Catalina Ridge Fault there are ridges and valleys that show the block has been lifted up while also moving sideways.
The continued plate movements are building up seismic stress on these ridges and faults – and scientists say there is no reason to think they will not rupture in the same way San Andreas will at some point in the future.
The team say it is of paramount importance they gain a better understanding of these offshore faults. "We've got high resolution maps of the surface of Mars, yet we still don't have decent bathymetry for our own backyard," Legg said.