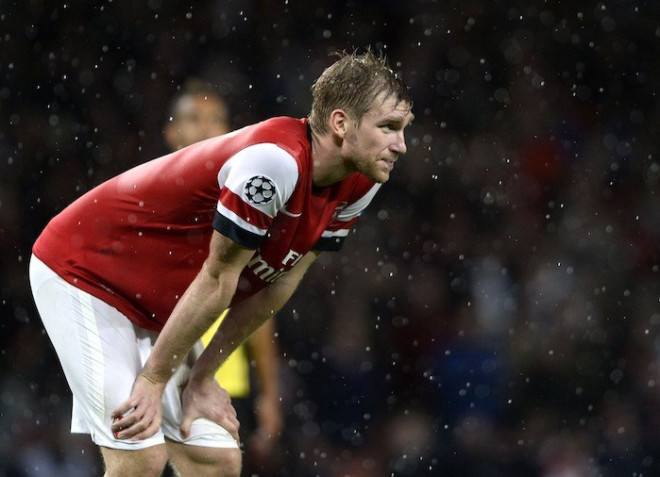 Arsenal defender Per Mertesacker believes all is not lost for the Gunners who look to overturn a two goal deficit when they travel to the Alianz Arena next month.
The Gunners will be buoyed by their performance last season when they got the better of the German club on their home turf and beat them 2-0, only to crash out of the fixture on away goals. Mertesacker is hopeful that they can repeat that performance and come back from the fixture with their head held high.
Arsenal started the tie the better side and barring a long distance effort from Toni Kroos in the opening three minutes, the hosts took the game to the visitors and should have taken the lead. Yaya Sanogo forced a smart save from Manuel Neuer in the sixth minute and the Gunners followed that up with their best chance of the game when Mesut Ozil drew a foul from Jerome Boateng in the box to secure a penalty.
However, the German, entrusted with the job to give Arsenal the lead fluffed the chance and the Gunners lost their momentum and allowed Bayern to come back into the game. Ozil's miss was replicated by David Alaba who missed a penalty at the other end of the field but the damage was done as Wojciech Szczesny was sent off for bringing down Arjen Robben. In spite of the loss, Mertesacker believes there are a lot of positive vibes to take from the fixture and has urged Arsenal to come back fighting against Sunderland in the weekend.
"We started really well, we deserved one goal at least but we dropped back after the red card and our [task] was even more difficult. We kept our defensive spirit for nearly 90 minutes but you remember Munich are a fantastic team, they play possession very well," Mertesacker told www.arsenal.com.
"It is a little blow but if you look back to last year, we lost 3-1 and so we are looking forward to Munich - why can we not repeat what happened last year? We have to switch on quickly again on Saturday in an important game in the Premier League and get the three points and after that we have a little break.
"We need that because we have played a lot of games. Our team has great spirit and will come back from this," he concluded.