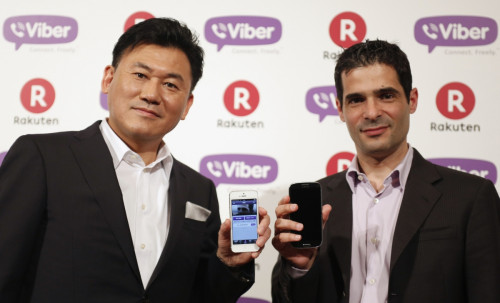 Ratuken, the Japanese internet and e-commerce company, has agreed to pay $900 million (£540m, €660m) for mobile messaging app Viber which has 280 million registered customers.
Ratuken is a Japanese conglomerate whose e-commerce site Rakuten Ichiba is the world's largest by sales. Since 2005 it has begun expanding outside of Japan, with its acquisitions including Buy.com (now Ratuken.com) and the UK-based Play.com.
It also bought the Canadian-based ereader company Kobo in 2011.
"World's number one communications platform"
"This acquisition is a totally new strategy that will take Rakuten to a different level," said Rakuten's chief executive Hiroshi Mikitani.
Viber's CEO and founder, Talmon Marco, said: "This combination presents an amazing opportunity for Viber to enhance our rapid user growth in both existing and new markets.
"Sharing similar aspirations with Rakuten, our vision is to be the world's number one communications platform and our combination with Rakuten is an important step in that direction."
Viber, which is based in Cyprus, is among a growing group of apps which offer smartphone users the ability to send and receive text, picture, video and voice messages over the internet, which are quickly replacing traditional SMS text messages.
The iOS verison of the app also allows users to make voice calls, mimicking the features of Skype.
Rapid growth
Viber works across almost all smartphone operating systems, as well as on Nokia feature phones. There are also desktop clients available to allow PCs running Windows and Mac OS X to use the service.
Launched in December 2010 for the iPhone, Viber has grown quickly and now has 280 million registered users, 100 million of which use the service at least once a month.
Viber was the focus of some controversy from bloggers in the Arab world last year, due to founder Marco's time in the Israeli military and basing his development operations in the country.
In an interview with the Guardian last August Marco defended his position:
"We never took a single dollar from the state of Israel, we are not even incorporated in Israel. We maintain a research and development center in Israel and that's it."