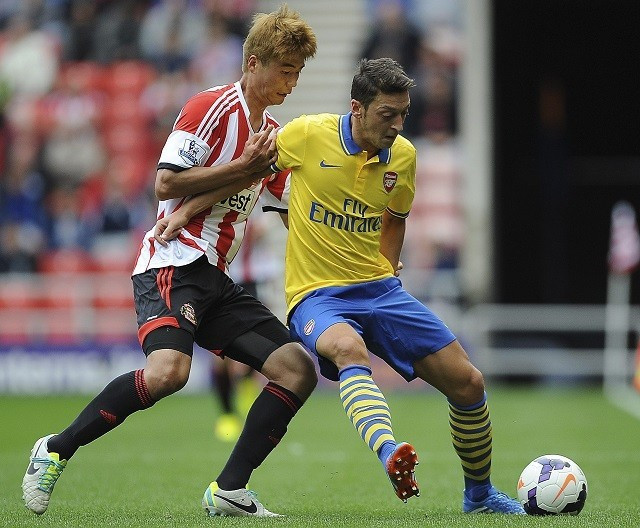 Real Madrid midfielder Sami Khedira believes that Mesut Ozil's arrival at Arsenal has taken them to a new level which will eventually lead to the Premier League title.
Khedira, who plays with Ozil for the German national team, says that Ozil adds a little bit extra to an already brilliant Arsenal team, which can take them all the way. The 24-year-old made a deadline day move from the Spanish giants for a record £42.5m fee, smashing Arsenal's transfer record.
The Gunners are in great form, winning each game since Ozil's arrival, and are looking good to go all the way. Arsenal are currently second in the league, one point behind Liverpool, but a win against West Bromwich Albion would see them back on top before the international break. Wenger and his men showed their mettle in their 2-0 win over Napoli where they tore the Italian side to shreds with their pace and incisive football. Ozil was the star of the show, scoring one goal and creating the other for Olivier Giroud to seal the game with less than 15 minutes played.
"Arsenal had a strong team anyway, but Mesut makes them the best team in England. I am sure he can be the player that makes things happen for them and win them the championship," Khedira said.
"Mesut is a genius on the field, there is no other way to describe him.
"Of course, there was some disappointment among the players at Madrid because he is the best in his position in the world. But I understand his decision as a player and also as my friend. He is already playing amazing football for Arsenal and he hasn't even got used to the Premier League yet," he added.
Khedira is also appreciative of the German core that is forming at Arsenal, with the likes of Lukas Podolski, Per Mertesacker and Serge Gnabry all part of the group that have reached new heights this season. Early indications suggest that Wenger is looking to add to their ranks, having had a bid rejected for Lars Bender this summer.
"There is a real German influence now, with Per Metersacker, Lukas Podolski, Mesut and also younger players coming through. They are the sort of players Arsenal need if they are to win trophies," he said.