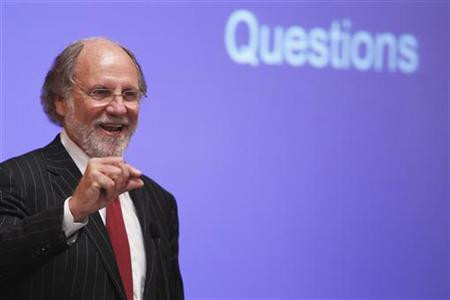 MF Global is said to be "close" to agreeing a deal to file for bankruptcy protection and sell some of its assets to Interactive Brokers Group.
The US brokerage firm filed for Chapter 11 bankruptcy protection after revealing £4bn of eurozone debt exposure.
The futures brokerage employs over 2,000 people with 700 in its London, Canary Wharf office.
The bankruptcy protection and the deal where assets will be sold could both be announced Monday, according to The Wall Street Journal.
MF Global is run by ex-New Jersey Governor and Goldman Sachs executive, Jon Corzine, who last week announced a $191.6million quarterly loss.He made big bets on sovereign bonds issued by European countries, it is claimed.
Shares in the brokerage closed down 16.1pc at $1.20 on Friday.
Robert Rutschow, an analyst at CLSA Credit Agricole told the Telegraph: "While the pieces are attractive, figuring out potential buyers is a lot harder, in the current environment; banks can't even go to the bathroom without permission from their regulator, let alone buy a brokerage firm that was looking to grow proprietary trading and expand risk-taking activities."
Corzine took over as CEO of MF Global earlier this year and had hoped to turn a company that started in the late 18th century as an agricultural broker into a trading house.