Michael Bisping: Tony Ferguson is a tougher fight than Nate Diaz for Conor McGregor
Bisping thinks Diaz will price himself out of a trilogy fight with McGregor.
Ferguson is expected to face the Irishman following his interim title win at UFC 216.
UFC middleweight champion Michael Bisping thinks Tony Ferguson is a tougher match-up for Conor McGregor than Nate Diaz.
McGregor is expected to return to the octagon soon following his much-publicised venture into boxing and will ideally defend his belt against Ferguson, who recently won the interim lightweight title against Kevin Lee at UFC 216.
However, there are rumours that the Irishman will instead face Diaz in a more lucrative trilogy fight which, while more exciting for the casual fan, is not something that all hardcore MMA fans would like to see.
Ferguson claims McGregor is scared to face him, attributing it to the fact that the lightweight champion has not mentioned his name at all in the past year.
McGregor's striking coach Owen Roddy meanwhile, claims the 29-year-old is too strong for "El Cucuy" and that the fans would rather see him face Diaz in a more challenging and exciting match-up.
Bisping, on the other hand, believes Ferguson is in fact a tougher challenge for McGregor, stating that while the Ultimate Fighter winner is prone to getting hit, he could weather the storm and expose the lightweight champion's gas tank.
"For sure [Ferguson is a tougher fight than Diaz]. The problem is for Tony Ferguson is that he does get hit," Bisping said on his podcast, as quoted on MMAFighting. "We saw that against Kevin Lee, he had his chin up in the air a few times and Kevin Lee exposed that."
"Conor, love him or hate him, the guy can fight and he can strike and he can box. We saw that against [Floyd] Mayweather, and if Kevin Lee connected with [Ferguson], sure as hell Conor will connect as well.
"The problem that Conor has is the same problem that Kevin has, his gas tank isn't the best. That's not me being negative, it's just that history has shown that. But Tony can weather the storm.
"Can he weather the storm in the way that Nate Diaz did? Can he take those shots? I guess we've got to see the fight to find out but it's certainly an interesting match-up and you can make a lot of cases for both guys to win."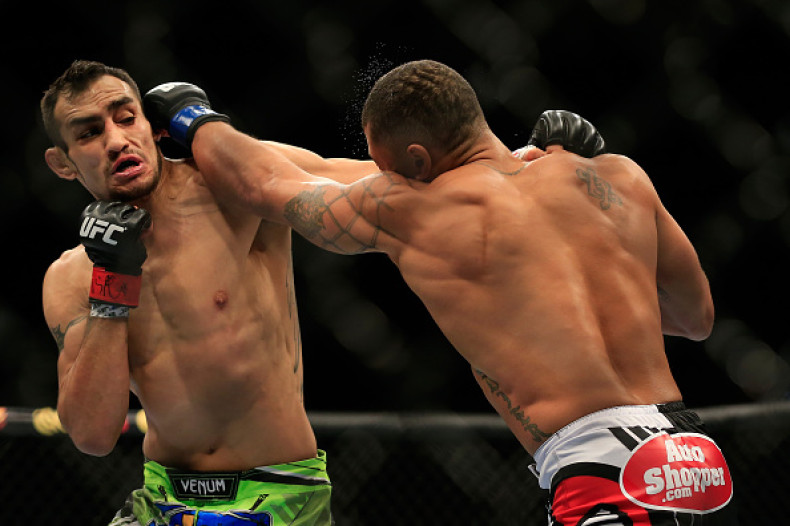 The Briton also added that Diaz could potentially price himself out of a big-money rubber match with McGregor if his demands remain too high.
"Here's the thing, Diaz is saying he wants $20 million to fight Conor for the third time, which sounds insane," Bisping explained. "It is insane, but realistically, if that was boxing, for an event that size, a fight that big for the PPV numbers, I feel like the boxer would get that money or close to it.
"But $20 million, I think what he's doing there is pricing himself out of the market, simple as that. That's why Dana [White] is pushing the Ferguson fight. Dana, by going out there at the press conference and saying publicly that Ferguson has to fight Conor, that takes the momentum away from Diaz. So that's gonna soften his stance on the $20 million."