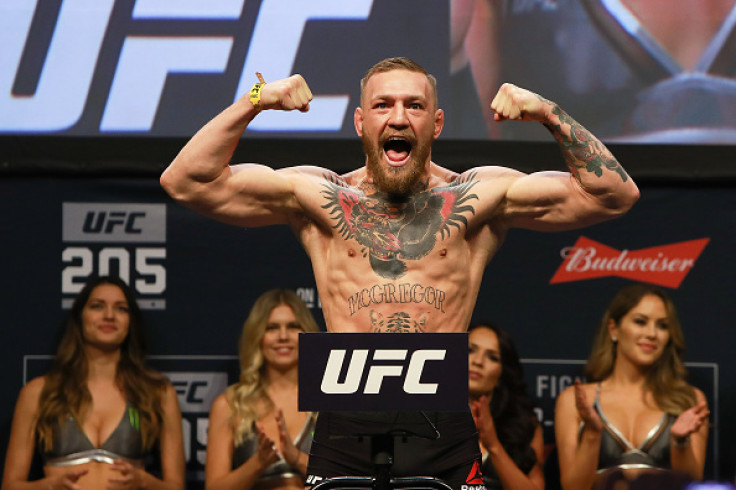 Former women's bantamweight champion Miesha Tate has given her verdict on who would win in a potential fight between Conor McGregor and Georges St-Pierre.
St-Pierre made his return to the UFC earlier this year after retiring and vacating his welterweight title in 2013, citing that he needed time off.
Set to face Michael Bisping for the middleweight title on 4 November at UFC 217, there are doubts as to whether "GSP" will be the same fighter who was considered one of the greatest of all time during his initial spell with the company.
The Canadian was recently urged by his fellow compatriot Olivier Aubin-Mercier to call out McGregor regardless of the result of his fight with Bisping after UFC 217 in what has long been a dream bout for MMA fans.
And Tate believes the "Notorious" will come out on top if a potential bout between the two ever came to fruition.
"Conor McGregor, I've underestimated the guy a number of times, thinking he wasn't going to win some of the fights that he won and he did it," Tate said on SiriusXM Rush, as quoted on MMAFighting. "The man is truly in a league of his own."
"When it comes to his game planning, when it comes to his trash talking, when it comes to getting inside people's heads, nobody does it better than Conor McGregor. So I absolutely would not count him out in a fight like that."
While "Cupcake" admits that she is a huge fan of St-Pierre, she believes that the mind games that McGregor will undoubtedly play will have a bearing on the result.
"Not to mention, GSP has never had to deal with someone's berating, that constant mental barrage that Conor McGregor does," she added. "Something is there. People haven't quite figured it out but there's something, an element that Conor McGregor adds that's not just his skill set."
"He gets inside people's heads and he ruins them before they even step inside the octagon. To say that he couldn't do to GSP when he's done it to everyone else, it's insane to think that he couldn't do that.
"So I just think he would probably do well. He's evolving, he's very athletic, he's heavy handed. I think he could knock out a lot of guys bigger than him. Look how well he did against Mayweather. I was so impressed with how he did there. I thought he was gonna lose that fight handily and he hung in there tough."