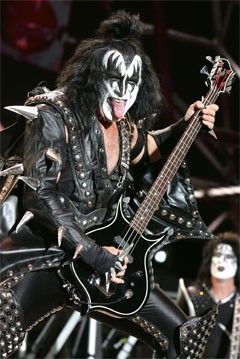 Organisers of a Michael Jackson tribute concert in Cardiff have been criticised for the booking of Kiss, and have further angered Jackson's siblings who were against the concert idea from the beginning.
Kiss has been removed from the bill after controversy over comments bassist Gene Simmons made last year concerning Jackson's legal troubles, specifically of child molestation which he was cleared of in 2005.
His brother Jermaine said: "This mishandling reinforces my view that this promoter is getting it all wrong," reports the BBC.
The anger over Kiss' booking stems from an interview Simmons gave to Classic Rock magazine last February, in which he said: "Where there's smoke there's fire. There's no question in my mind he molested those kids. Not a doubt."
Jermaine Jackson took to Twitter to say he was "appalled" that promoter Global Live had invited the group, echoing the views of many fans online.
The Michael Forever concert is being endorsed by Jackson's mother Katherine and several siblings, but has been opposed by brothers Jermaine and Randy.
Jermaine said a tribute concert should take place after the trial of Michael's doctor Conrad Murray, who is charged with involuntary manslaughter. The trial is due to start in September.
In a statement, Global Events Live chief executive Chris Hunt calling the Kiss booking an "oversight."
"Under the circumstances, we fully agree that even though Kiss is a band Michael admired, we have no choice but to rescind our invitation to them to appear in our tribute concert," he said.
Stars set to appear at the Millennium Stadium in Cardiff on 8 October include Cee Lo Green, Smokey Robinson, Christina Aguilera, Leona Lewis, boy band JLS and Jackson's nephews 3T.