Microsoft has posted its first ever quarterly loss since joining the stock market in 1986. But there is no need to panic, and here are six reasons why.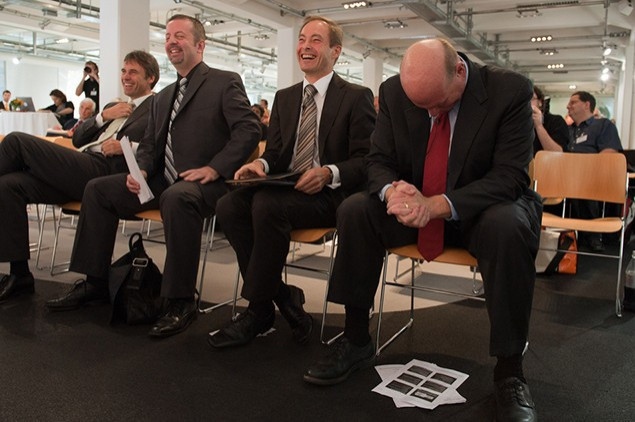 Reports in the last 12 hours have focused on the headline-grabbing figure of Microsoft's first quarterly loss in its history. However Microsoft's press release leads on its record revenue figure. So who is right?
In comparison, Microsoft's search rival Google posted earnings of $2.8bn, up from $2.5bn in 2011. Google's purchase of DoubleClick for $3.2bn has shown the kind of results Microsoft was hoping to see from aQuantive.
Microsoft bought aQuantive in 2007 for $6.3bn and although Bing doubled its market share to 15 percent over the past three years, Microsoft's online services unit has lost nearly $500m each quarter.
However, Microsoft announced its massive write down for aQuantive two weeks ago so the information was already public knowledge. Overall, its quarterly figures beat analysts' revised expectations.
Microsoft shares rose 2.4 percent to $31.39 in after-hours trading following announcement of the results. It seems that investors aren't worryingso, here are the reasons you shouldn't either:
1. We Knew It Was Coming
Microsoft did the right thing and put out a statement two weeks ago so that its first ever loss was not the huge shock it could have been.
"The acquisition did not accelerate growth to the degree anticipated, contributing to the write down," Microsoft said in a statement about the $6.2bn hit it took from aQuantive.
"This is an accounting decision that the company made based on how the business is performing relative to the projections we had made during the past five years," Microsoft chief executive Officer Steve Ballmer added.
2. Microsoft Is Learning From Its Mistakes
The write down of aQuantive was the result of a slow rate of growth in Microsoft's online services division. Revenue per search has remained sluggish despite Microsoft making substantial investments in the unit.
Even though revenue rose to $735m for the quarter, up from $680m year-on-year, chief financial officer Peter Klein said he was disappointed by the performance of Microsoft's online services division.
He said the company planned to focus its efforts to increase profits.
"Despite this progress, our expectations for future growth and profitability are now lower than we previously expected," Klein said. "We continue to believe that search is a strategic asset for Microsoft and are prioritising our resources into the areas we believe drive the most business value."
3. Microsoft Doesn't Rely On Ad Revenue
The online advertising business makes up just four percent of Microsoft's annual revenue and most of its sales come from its Windows OS, Office and Server software.
Revenue from Microsoft's business division, which includes Office products, rose seven percent to $6.3bn compared with the fourth quarter 2011.
Server and tools revenue totalled $5.1bn (up 13 percent year-on-year) and the entertainment and devices division, including Xbox consoles and the online Xbox Live service, rose 20 percent to $1.8bn.
4. Windows Figures Are Distorted
The one area of the company that did perform badly was Windows and Windows Live sales, which were down by 13 percent to $4.15bn.
However, this figure looked worse than it actually is because Microsoft changed how it recognised that revenue to take into account an upgrade offer. People who buy a PC running Windows 7 can pay a discount price of $14.99 to upgrade to Windows 8 when it is released in October.
That deferment of a portion of its Windows sales was worth $540m.
5. Overall Performance Is Strong
Overall revenue rose to $18.06bn, a seven per cent increase over last quarter. "We delivered record fourth quarter and annual revenue, and we're fast approaching the most exciting launch season in Microsoft history," said Steve Ballmer, chief executive officer of Microsoft.
Not counting the Aquantive adjustment and the $540m deferral of revenue, earnings came to 73 cents per share. A poll of analysts carried out by FactSet found that they were expecting 62 cents per share based on revenue of $18.15bn.
"The quarter was pretty much in line across major segments of the business," Nomura MD Rick Sherlund told Market Watch.
6. Smart Analysis Looks To The Future
Even with the massive write downs, analysts were happy with Microsoft's trading in the quarter. The 13 percent drop in Windows and Windows Live sales should also be turned around when Microsoft launches the Windows 8 OS and Windows Phone 8 later this year.
"Overall, it was a clean quarter. Right now, we're looking forward to the impact of the new products, starting with the launch of Windows 8 in October," Sherlund said.
Microsoft is also readying the next versions of Windows Server and an upgrade to Office that will integrate Skype software and could bundle access to Yammer.
"It's going to be a big launch," Richard Williams, analyst at Cross Research said of Windows 8. "You have to remember how strong Microsoft is in the enterprise. Surveys suggest that two-thirds of IT managers are uncomfortable using another operating system, so there's a big opportunity there."