Key Features
680g and 9.4mm thick

10.6in touchscreen with 1366 x 768 resolution

Nvidia Tegra 3 processor

Windows RT

VaporMg construction

Price as reviewed: £559 (64GB with Touch Cover)
Introduction
So far the tablet market has been dominated by one company - Apple. One of the main reasons for this is that Apple has designed every aspect of the experience including, crucially, the software which runs on it.
Android on the other hand is written and designed by Google but run on hardware made by hundreds, if not thousands of third-party manufacturers. It makes for an inconsistent and muddled experience at best.
With the launch of the tablet-specific Windows RT version of its latest operating system, Microsoft would have known that getting the hardware experience right would be crucial to getting significant market share from Apple.
It could have sat back and relied on its OEMs to come up with the perfect design, but it didn't. Instead it stood on some toes and launched its own hardware, the Surface tablet.
Microsoft says Surface was created to show the full potential of what Windows 8 could do, adding that it will appeal to both casual and business users - with its combination of 10.6in tablet and unique keyboard covers.
Microsoft Surface: Design
The Microsoft Surface tablet (or Surface with Windows RT as it is officially called - with a Pro version coming in a couple of months) is beautifully designed. Clearly a lot of thought has been put into it, with touches such as the angled edges making it great to hold in one or two hands.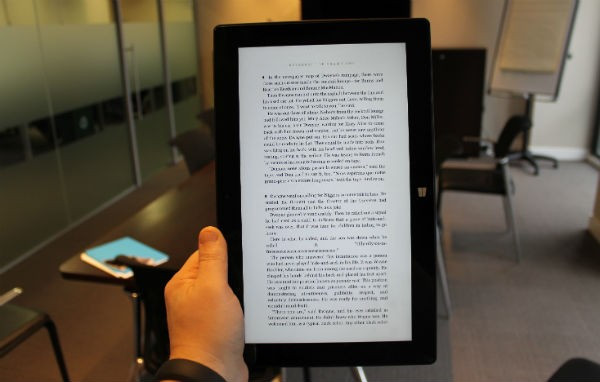 The Surface tablet uses a new VaporMg (pronounced Vapor Mag) construction, which Microsoft says is half the weight of aluminium but much tougher. Indeed at the launch at the end of October, the company dropped the tablet a number of times to show off just how robust it was.
I didn't drop the Surface during my week using it, but it feels solid, and like Apple's iPad there is no flex in its construction.
At the rear you'll find the kick-stand, which Microsoft says took a lot of time to get right, wanting to recreate the feeling you get when you open and close the door in a luxury car.
Again the all-metal construction feels unbreakable and even under strain never felt as if it was going to give way or break.
The tablet weighs 680g, which is 60g heavier than the iPad 4. Both tablets measure 9.4mm thick, meaning the surface is sleek and slim, fitting easily into your bag or backpack.
The 16:9 aspect ratio of the screen means the Surface is more elongated than most tablets on the market. Using it in portrait mode therefore is not a good experience. It's difficult to hold and Windows 8 is simply not designed to be used like this.
Held in landscape mode, the Surface is not the most comfortable either, though I found for short spurts of use, it was perfectly acceptable.
The Surface comes into its own however, when combined with one of the two keyboard covers which Microsoft has produced to accompany it.
Microsoft Surface: Covers
There are two covers available - the Touch Cover (£99) and the Type Cover (£109). Both provide protection for your Surface tablet when not in use, as well as a full QWERTY keyboard when open, which turns the Surface from a tablet into a viable laptop alternative.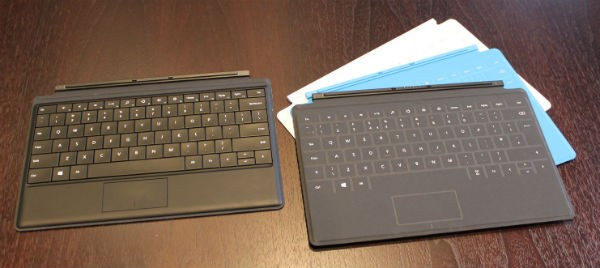 The Touch Cover, which is available in black, white and cyan, is the slimmer of the two, adding just 3mm of thickness and negligible weight when closed. Like the Type Cover, it attached magnetically to the bottom of the Surface.
Two magnets either side of the central connector guide the cover into place, with the third central magnet attaching the covers with a very satisfying click. The connection is so solid you can hold the tablet upside down by the cover and it won't fall off. Another example of the thought and precision Microsoft has put into the tablet's construction.
With the kickstand extended and the keyboard attached you have what is a very viable laptop alternative.
The Touch Cover, as the name suggests, features keys which are little more than felt squares etched onto the surface of the cover. You get a typical keyboard layout, with the function keys replaced with Windows 8-specific keys including the Charms keys.
There is also a touchpad, along with left and right clickable buttons, which supports some gestures such as swiping, but considering you are using a touchscreen, you rarely find yourself using the touchpad - though it's still nice to have the option.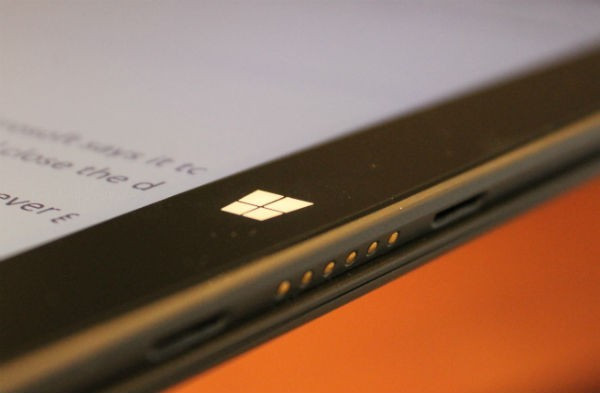 But how easy is it to type on? Considering how thin the cover is, and the fact there isn't actually any keys to speak of, it is amazingly good to type on.
I expected a pretty serious learning curve when I got it first, but from the start I found it to be superb. It does take getting used to, and the noise the keys make (which can't be turned off unless you mute the whole tablet) can be distracting.
However, I wrote several articles and part of this review with the Touch Cover and unlike with the Asus Transformer keyboard, never once felt like giving up and flinging it out of the window.
Obviously I wasn't typing as fast on this as I would on a desktop keyboard or the Chiclet keyboard of an Apple MacBook, but considering how thin and light it was, I was amazed at how good the typing experience was.
Moving onto the Type Cover, as you may have guessed from the name, this is a thicker cover with is aimed at those who want a more traditional typing experience.
Despite being almost twice as thick as the Touch Cover (5.75mm), when it is closed it doesn't really add that much additional bulk to the Surface. It is identical to the Touch Cover in every way (connecting, layout, touchpad) except that you have physical keys which depress when you hit them.
This is not the Chiclet style keyboard of an Ultrabook, but resembles a netbook keyboard from a few years ago. The keys are close together but are large enough so that you don't mash four of them at once when typing - even with my chunky digits.
The Type Cover is a pleasure to use. Significantly faster than the Touch Cover, I found it comparable in speed to a traditional laptop keyboard, and in use with the touchscreen, it makes for a formidable combination.
Microsoft: Hardware and Connectivity
The decision by Microsoft to make Windows 8 compatible with ARM-based processors was a hugely significant step. This particular Windows tablet is power by the ubiquitous Nvidia Tegra 3 processor, which powers most of the high-end Android tablets on the market at the moment.
The quad-core processor is clocked at 1.3GHz and is paired with 2GB of RAM. This means it can run pretty much anything you can throw at it. Playing HD video side-by-side with IE10 with multiple tabs open wasn't a problem.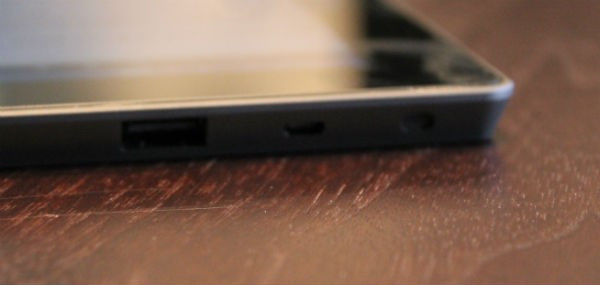 However, there was still some delay in opening apps and in the general settings menus. This s more than likely down to the Windows RT software rather than any issue with the hardware.
In terms of connectivity, you get a full-sized USB 2.0 port which is a rarity on a tablet these days, but very welcome here for transferring files to and from your computer or hard drive. There is also a micro HD video out port, a headphone jack and a volume rocker on the sides.
Crucially, there is also a microSD card slot, hidden away behind the kickstand. The Surface comes with either 32GB or 64GB of local storage, but up to 16GB of this is taken up with the Windows RT software, meaning the 32GB model has very limited space available for your own content.
The tablet features a pair of stereo speakers located either side of the screen when in landscape mode. The speakers are perfectly decent, but don't expect too much bass from them.
The tablet features front and rear cameras, which Microsoft have designed specifically for use when the kickstand is deployed. The rear camera is angled up slightly so it is pointing directly ahead, with the front-facing camera doing something similar.
Both produce good video results, though for still photographs it's probably best to use your smartphone or camera.
Microsoft Surface: Screen
The Surface features a 10.6in LCD screen with a resolution of 1,366 x 768, which is the default resolution for most laptop screens these days.
This gives it a pixel density of just 148 pixels per inch (ppi), making it a lot less sharp than the iPad (264ppi), the Nexus 7 (216ppi) or the Kindle Fire HD (216ppi).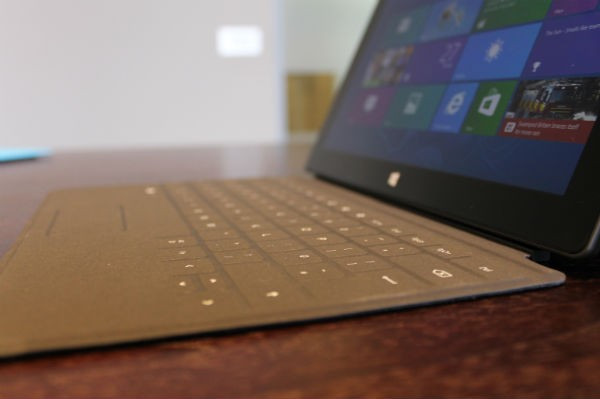 While Microsoft has done its best to optimise the software to make the most of the screen, the difference is noticeable, particularly when looking at certain websites. Text however is still pretty sharp, making reading websites, or typing in Word a good experience.
Because of the 16:9 aspect ratio, the Surface is ideal for watching film and TV. Although not being quite HD quality, video playback looked good on the Surface screen, though again not as good as on some other tablets.
The screen is also very reflective, despite Microsoft using optical bonding technology to reduce glare, making it difficult to use outdoors when its sunny, though this is a complaint I could give to most tablets.
The screen on the tablet is good. No better, no worse. It has decent colour reproduction though contrast is not as good as I would have hoped. It has decent viewing angles and should be good enough for most things it will be required to do.
Microsoft Surface: Software
Of course, hardware is only as good as the software it runs and unfortunately in the case of the Surface, it has been let down by Windows RT.
While the Modern UI is great to use in conjunction with a touchscreen, there are too many elements of the overall OS which feel unfinished - meaning it is nether one thing nor another.
Slip below the polished, tiled interface of the start screen and you quickly find that Microsoft is playing a game of distraction with Windows RT.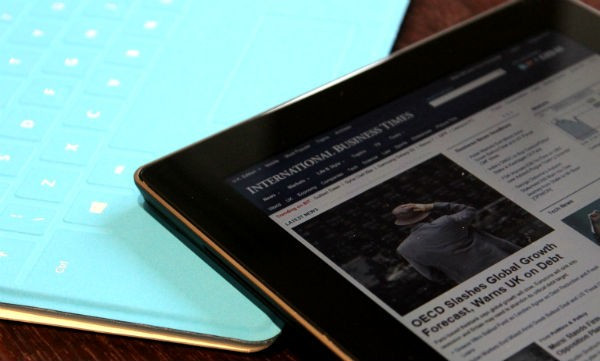 Just like a magician makes an audience look one way while slipping a rabbit into his hat with another hand, Microsoft is hoping the shiny and colourful tiles will distract people from the problem which lies beneath.
That problem is of course the traditional Windows desktop. It is not made for touch and once you have to deal with it - and you will if you want to do anything with your files, use MS Office or deal with any of the more complicated settings - it becomes a pain.
Another problem for Microsoft is a lack of native Windows 8 apps, including major players like Facebook, Twitter, BBC iPlayer and more. Yes, there are hundreds of new apps being added to the Windows Store every week, but it's quality over quantity which Microsoft needs to focus on.
I brought this up with Ian Moulster who works on the Windows team at Microsoft and he suggested pinning particular websites, like Twitter and Facebook, to the start screen as an alternative.
Yes it works, but it's not an ideal solution, and a lot of websites (such as Tweetdeck) don't work well with a touchscreen.
Windows 8 is a half-way house between a traditional Windows experience and a full-fledged touch-optimised experience. It will get better as more apps are added, but it's a pity, that at the moment, the Windows RT software simply cannot match the quality of the Surface hardware.
Microsoft Surface: Value and Competition
The 32GB Microsoft Surface cost £399. Add a Touch or Type Cover (and you'd be a fool not to) and you're looking at £500.
However, go for the 64GB version with a Touch Cover you will be paying £559, which is still very expensive, but much better value. The ability to expand your storage via microSD card is a real boon for those who want to carry film or music libraries around with them.
Looking at the competition, customers looking for the Windows 8 experience on a tablet with the option of keyboard dock/cover, will have a number of choices.
The Dell XPS 10 for example features a 10in tablet combined with a keyboard dock, though this will set you back £550 for just 32GB of storage.
Samsung also has a tablet/keyboard dock combination, in the shape of the Ativ Smart PC, though pricing hasn't been announced yet, it looks like it is going to be more expensive than the XPS 10 or Surface tablets.
If you're not looking for Windows in particular, there is always the Transformer range from Asus, which until now have led the way in terms of tablet/laptop hybrids.
While these are now available at significantly less than the Windows RT models, they run Android which is not optimised to be used with a keyboard and touchpad.
The Transformer range, along with the XPS 10 and Ativ Smart PC also suffer from one major drawback afflicting most of these devices - bulk. As they all feature a keyboard dock rather than an integrated cover, the Surface is the only option which retains is svelte figure even with the keyboard attached.
The other option obviously is an iPad. While there is no official iPad keyboard, there are plenty Bluetooth keyboards out there which you can use in conjunction with the iPad. A lot these also double as covers for the iPad, though none are as thin and light as the Touch and Type Covers.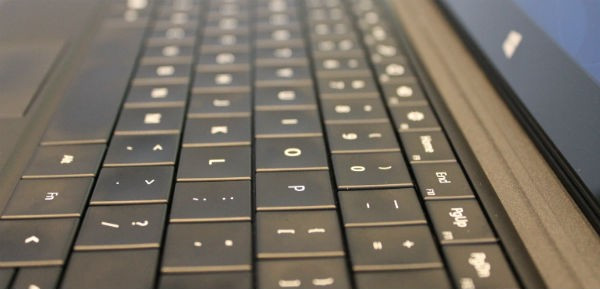 With a 32GB iPad costing £479 and a decent Blueooth keyboard/cover setting you back £50 to £60, the price is similar to the 64GB Surface with Touch Cover bundle.
There are certainly more iPad-specific iOS apps (275,000 at last count) so for a lot of people it will come down to what they want to use their tablets for. With no version of Office available for the iPad (yet) the fact Office Home and Student 2013 comes bundled with Windows RT, could be a draw for many.
Microsoft Surface: Verdict
I loved the Surface more than I thought I would. It is the first tablet/keyboard combination which I could see myself using on a consistent basis, without the need to punch something out of frustration.
Add to this the fact the keyboard covers add negligible weight and bulk to the slim design and Microsoft is onto a winner. Flawless build quality, a full-sized USB port and a microSD card slot mean this could very easily replace your laptop.
Ironically, it is the software that has let Microsoft down here. Windows RT is simply not a good piece of software, and is a frustrating experience at best. When the Windows Store fills out, and we no longer have to dip in and out of the traditional desktop UI so much, then Microsoft could have the ultimate tablet.
So close and yet so far.
Scores
Overall: 8/10

Screen: 7/10

Design: 9/10

Performance: 8/10

Value: 8/10

Software: 7/10
The Good
Flawless design and build quality

Best typing experience from cover/dock

MicroSD and full-sized USB
The Bad
Windows RT feels unfinished

Average screen