The release date for the Microsoft Windows 8 operating system has been announced as 26 October, 2012 by Windows leader Steve Sinofsky.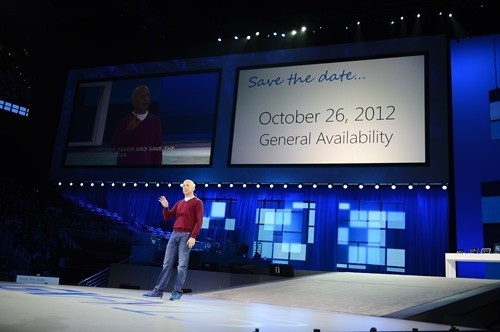 Sinofsky revealed the official 'general availability' launch date - when the software goes on sale to consumers - at Microsoft's annual sales meeting. The information was immediately confirmed by Microsoft on the official Windows blog.
In the US Microsoft will sell the Pro version of its Windows 8 operating system for $39.99 (£25.49) to users who upgrade from Windows XP, Vista and Windows 7. The $39.99 price tag is a promotional offer that runs until 31 January, 2013. A DVD boxed version of the Windows 8 upgrade will also sell in retail stores for $69.99.
In May, Microsoft announced it would offer a $15 Windows 8 upgrade for users who buy a Windows 7 PC after 2 June in the US, with that offer also running until 31 January, 2013. Pricing still has to be announced in the UK and repeated contact with Microsoft's UK press office has revealed little information.
"Our goal is to make it easy for customers to upgrade to Windows 8 when the time comes. We have nothing more to share than what's been posted on the Windows blog here," a Microsoft spokeswoman said.
"I'm afraid we currently don't have any spokespeople available," she added when IBTimes UK asked for clarification.
The 26 October launch date fits in with information announced by Tami Reller, chief marketing officer of Microsoft's Windows division, at the company's Worldwide Partner Conference (WPC) 2012 early in July.
"Windows 8 is on track to release to manufacturing the first week of August," Reller said. "And Windows 8 will reach general availability at the end of October. General availability means that new Windows 8 PCs will be available to buy and upgrades will also be available starting late October."
Microsoft's enterprise customers will get access to Windows 8 software as early as August.
The Pro version of Windows 8 is the most advanced version of the software and is aimed at "tech enthusiasts and business/technical professionals." The regular Windows 8 version is recommended for most users.
A touch-optimised version called Windows Runtime or Windows RT will come pre-installed on PCs and tablets powered by ARM processors.
Windows 8 will be available in 109 languages across 231 markets worldwide.