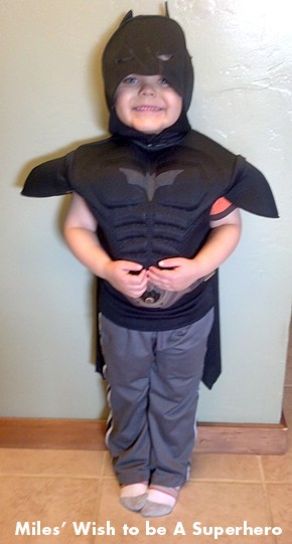 San Francisco is set to be transformed into Gotham City after 10,000 people pledged to help grant a five-year-old leukaemia patient's wish to become Batman.
Organised by the city's Make a Wish Foundation, cancer patient Miles will become the Caped Crusader, battling villains across the city.
On Friday (15 November), Miles' Day will start with a breaking news story, with San Francisco's chief of police asking if anyone knows the whereabouts of Batkid, as the city needs his help to fight crime and capture baddies..
Along with Batman, Miles will answer the call as his alter ego Batkid. Together they apir will rescue a damsel in distress, then capture the Riddler while in the act or fobbing a downtown vault.
He will then go to a burger bar for lunch, before getting a special message from the police chief to go to the window, where he will look upon a huge crowd of volunteers begging for his help as Penguin has kidnapped Lou Seal, the famous San Francisco mascot.
Huge response
After taking a ride in the batmobile and catching Penguin, Miles will stop at City Hall where mayor Ed Lee will congratulate him and present him with a key to the city.
Jen Wilson, from the charity, told ABC News: "This is one that we thought of as a great opportunity for people to share in the power of a wish so they can see how it affects not only the children and their families, but also the other people involved. It has a big impact on many people."
She said the level of interest in Miles' wish has been extreme and is not a normal wish the charity is able to grant. However, she said the response has been huge.
"We've got people who want to volunteer to participate, actors reaching out asking if they can play a role, photographers and videographers offering their services, people who want to give Miles gifts, makeup artists willing to donate their services, a fire truck that want to come out and show their support. It's quite a range."
While Miles' parents are in the loop of what has been organised, Miles has no idea of the extent of his wish: "He knows he may be getting a costume [but] little does he know..." Wilson said.