Millions of litres of oil spilled in nature reserve in one of Israel's 'gravest pollution events'
Millions of litres of crude oil have spilled out over several kilometres across a nature reserve in southern Israel.
In what officials are calling one of the worst pollution disasters in the country's history, experts say it will take months if not years to clean up.
The Green Police of the Ministry of Environmental Protection (MoEP) is investigating the spill at the Evrona Nature Reserve.
A pipeline carrying oil between Eilat and Ashkelon burst during construction work and local media is reporting that 80 people have been taken to hospital with breathing difficulties.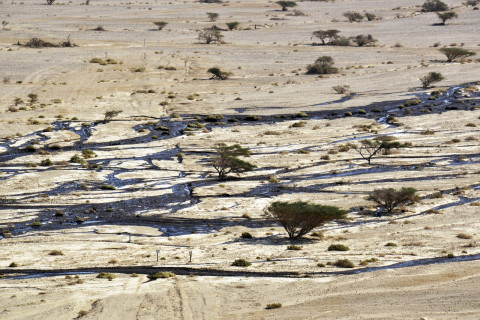 Crews on the ground are pumping the oil deposits in an effort to stop the spill and prevent the oil from entering Jordan.
​"MoEP officials who arrived at the area shortly after receiving reports of the leak found that millions of litres of crude oil had already spilled, and had travelled several kilometres," a statement said.
"Crude oil can contaminate land, release hazardous gas, and harm flora and fauna, and can be a health concern. The ministry's Green Police have established a special investigation team that will work with other agencies and authorities to determine whether the spill could have been prevented and to review how it is being treated."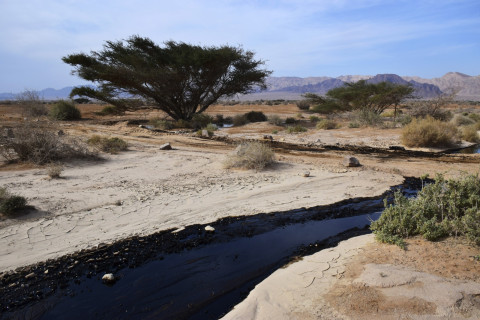 The Eilat Ashkelon Pipeline Company said the nature reserve has suffered "severe damage".
Doron Nissim, director of the nature reserves and national parks in Eilat, said the damage spans hundreds of acres, with the main threat being to insects and rodents that live on the surface – the oil does not appear to have seeped deep into the ground.
Guy Samet, an Environmental Protection Ministry official, told the Haaretz newspaper that the spill is "one of the gravest pollution events in the country's history".
It took about two hours to bring the leak under control. "Rehabilitation will take months, if not years," Samet said. "