As part of a school project on Discrete Mathematics, a student, known only by the Reddit username Sam2Schwab, has rebuilt Apple's proposed new Cupertino headquarters block by block.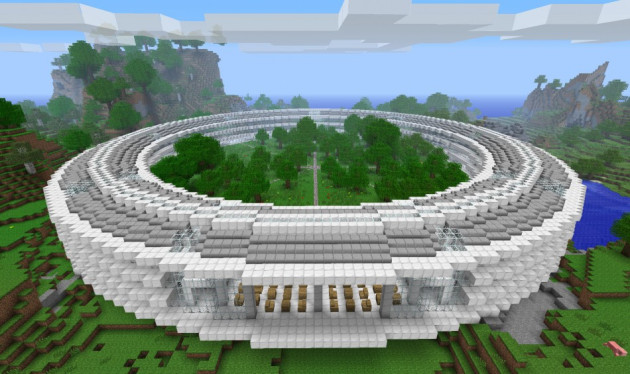 Featuring code-locked security doors and working elevators, the Minecraft version of the Apple Campus was built entirely by Schwab and a friend without the assistance of third-party apps. Downloadable map and level editors are often used to create large scale structures in Minecraft, but Schwab insists his version of the Apple HQ was built completely by hand.
It also includes a fully functioning binary calculator, which is operated by pulling dozens of in-game levers, and the office of former Apple CEO Steve Jobs.
The real-life Apple Campus was completed in 1993 and comprises six buildings spread over 850,000 square feet. For four years, Apple's research and development work took place across the entire campus, but with the return of Jobs to the company in 1997, R&D was moved to 1 Infinite Loop, with Jobs himself taking an office on the fourth floor overlooking the central courtyard.
In 2011, it was announced that Apple's workforce had grown too large for a single campus and Jobs proposed plans for Apple Campus 2 to the Cupertino City Council. After Apple submitted updated plans for the second campus in November last year, it was revealed that the new building would house a further 13,000 employees. According to PC Mag, every pane of glass used on Apple Campus 2 will be curved.
Schwab's recreation of the Apple HQ is just one of the many enormous structures built using the videogame Minecraft. In the past, eager players and design students have built 1:1 scale versions of Hogwarts School, the Starship Enterprise and the entirety of J.J.R Tolkein's Middle Earth.
There is also this video of a 'working' Nintendo GameBoy, created by removing and replacing blocks and using stop-cap animation.