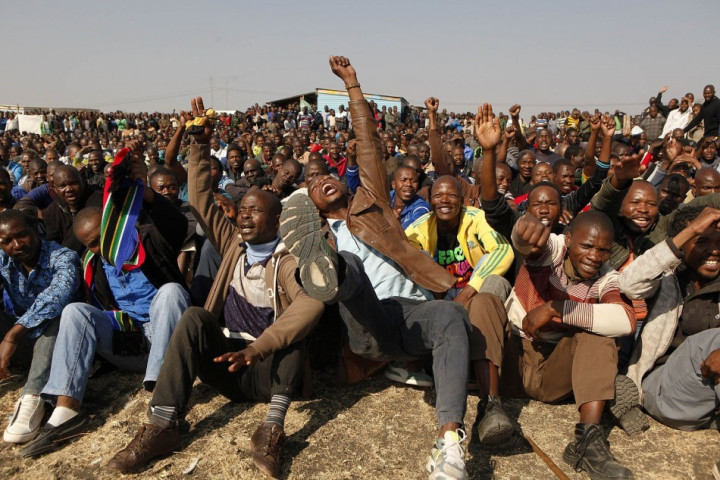 At least four miners have been shot in fresh violence at a goldmine near Johannesburg.
The mine is part-owned by Zondwa Mandela, grandson of anti-apartheid icon Nelson Mandela.
Early reports said security guards opened fire with rubber bullets at striking miners who were protesting over pay, and four miners were injured.
Police made four arrests, according to a spokesman.
The nephew of South African president Jacob Zuma, Khulubuse, also has a stake in the mine.
The latest outbreak of violence comes two weeks after 34 miners were shot dead by police at a platinum mine northwest of Johannesburg.
Populist firebrand politician Julius Malema warned he would make mines in South Africa "ungovernable" after being booted out of the African National Congress in May.
After the mass shooting at the Lonmin mine, he accused Zuma of presiding over a "massacre of the people of South Africa".
"How can he call on people to mourn those he has killed? He must step down," he said.
The authorities came in for heavy criticism of their handling of the shooting and its aftermath. Up to 270 miners were arrested and initially charged with murder after police opened fire on workers at Lonmin PLC's platinum mine.
The charges were brought under an apartheid-era collective responsibility law termed the "common purpose doctrine".
It was designed to silence dissent among the black population by making whole groups responsible for the actions of individuals.
Malema, the former leader of the African National Congress youth league under Zuma, has a record of rabble-rousing.
He has been captured on film singing a violent folk song at a rally which extorted people to "kill the Boer" - white South Africans. See here:
Miners who earn about £400 a month should down tools until their salary is doubled, he has insisted.
Wildcat strikes have broken out in recent weeks and have hit production at gold aluminium mines.
Also fuelling unrest has been competition between rival mining unions for members.
The Association of Mineworkers and Construction Union has scooped up many members of the National Union of Mineworkers, the country's largest union.