Mis-Selling Derivatives Scandal: UK Businesses Fight to Survive [VIDEO]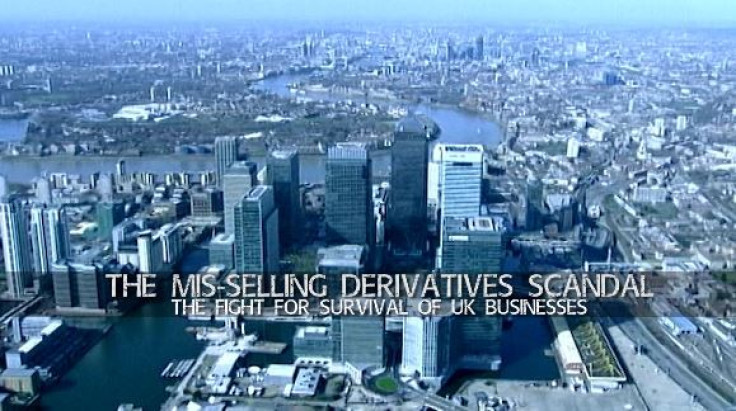 While thousands of UK businesses struggle to keep afloat amid the economic downturn, one of the most critical and damaging issues to eat away at the heart of small-to-medium enterprises is the mis-selling of derivatives by Britain's biggest banks.
Despite the Financial Services Authority forging an agreement with Barclays, HSBC, Lloyds, RBS and others to assess with the aid of an independent reviewer whether they had mis-sold interest rate swap agreements to UK businesses, thousands of SMEs are facing financial ruin or have fallen into administration while they wait for an outcome.
IBTimes UK has caught up with MPs, experts and lobby groups to investigate one of the biggest scandals to rock British businesses in recent years.
Editorial Note:
While the FSA, Barclays, Lloyds, RBS and HSBC would not comment on camera, they have provided us with the following statements.
Barclays:
"We are pleased to have reached an agreement with the FSA on how to progress our review of the sale of interest rate swap products. We have commenced the main review and look forward to engaging with all eligible customers. Where we have not met the expected standards, we will put things right."
HSBC:
"We can confirm that our past business review started at the beginning of March and we have committed to provide customers with fair and reasonable outcomes through this process. We have written to customers who took out an interest rate product, giving them details of the review.
"Now the review has started we are looking at each individual case, and will be advising individual customers of whether they fall within the scope of the past business review, and providing details on the next steps regarding their own particular circumstances."
Lloyds Banking Group:
"We are committed to doing the right thing by our customers, which means [that] following the review we will provide redress as quickly as possible to those small business customers where detriment is identified."
RBS and FSA had not returned with a comment after they were contacted by IBTimes UK.
© Copyright IBTimes 2023. All rights reserved.