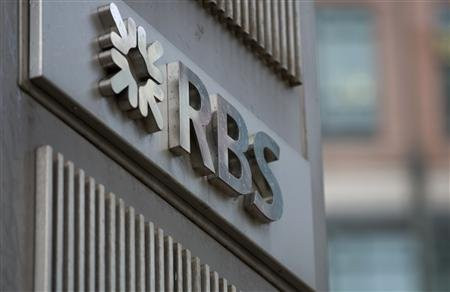 RBS has increased the compensation and administrative cost pot that is set aside for businesses that are claiming to have been mis-sold interest rate derivative products.
According to the RBS' first quarter 2013 results on its website, the group unveiled an extra £50m (€59.3m, $77.7m) for the interest rate swap agreements (IRSA) pot, bringing the total set aside to £750m.
However, the extra £50m does not necessarily mean this is solely set aside for customer compensation.
RBS said in its results statement that it "expects administrative costs to be higher than it had anticipated" at the time of the 2012 annual results.
IRSAs are contracts between a bank and its customer where typically one side pays a floating, or variable, rate of interest and receives a fixed rate of interest payments in exchange. They are used to hedge against extreme movements in market interest rates over a given period.
Companies that have seen the value of these products move against them as rates fell during the recession now owe banks crippling sums of money in interest payments each year.
But if the businesses want to cancel the contracts, they are faced with higher costs.
At the end of June 2012, the FSA, now renamed the Financial Conduct Authority, released its findings from a review that found that 40,000 IRSAs had been sold to customers.
All cases will be investigated for potential mis-selling.
In its agreement with the banks, the FSA banned HSBC, Barclays, Lloyds and RBS from selling interest rate swaps to SMEs.
Meanwhile, on another mis-selling scandal, RBS said it will not increase the compensation pot for payment protection insurance(PPI) redress costs.
It said in a statement that of the cumulative £2.2bn charge accrued so far, £1.5bn in redress had been paid by 31 March 2013.
Related Articles:
Mis-Selling Derivatives Q&A: Redress Fight Far From Over, Says Bully-Banks' Jeremy Roe [VIDEO]
Mis-selling Derivatives: Hurdles Still Face SME Compensation Hopes
Mis-Selling Derivatives: Bank Agrees to First IRSA Redress Payouts
Mis-Selling Derivatives Scandal: UK Businesses Fight to Survive [VIDEO]
Mis-Selling Derivatives Q&A: Regulator Should Install Appeals Process [VIDEO]
Mis-Selling Derivatives Q&A: Guto Bebb MP Pushes for TBL Review Inclusion [VIDEO]
Mis-Selling Derivatives Exclusive: Barclays' Lawyers Accused of Breaching Code of Conduct