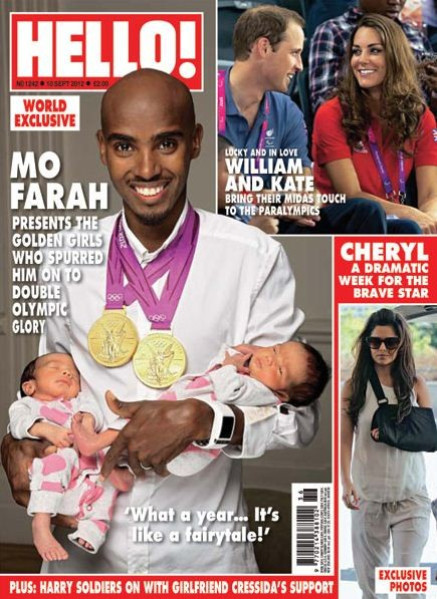 Just weeks after winning two gold medals at the London Olympics, distance runner Mo Farah is celebrating another dream double - after his wife Tania gave birth to twin girls.
The happy couple showed off the girls to the world in an exclusive interview with Hello magazine, during which Mo talked about an "incredible" year which saw him win gold in the 5,000m and 10,000m at London 2012.
Tania said the birth of twins, born just 13 days after her husband claimed his second gold medal of the games, was "like a fairytale. We couldn't ask for anything more".
She then revealed the names of her baby girls, saying that "twin one, the eldest, is Aisha. Twin two is Amani."
Explaining the choice of names, Mo added that he and his wife, who already has a daughter from a previous relationship, wanted Muslim names beginning with the same initial. He jokingly adding that, in choosing the name of their youngest twin, "we wanted some free stuff from Armani!"
Aisha weighed 5lb 20z, while Amani was 4lb 40z. Both Mo and Tania agreed their girls have inherited his distinctive long limbs.
It was Mo who cut the umbilical cord and held the twins first after their birth. "He was almost bouncing-off-the-walls excited," said Tania.
During the interview, Mo also talked at length about the feelings he experienced after winning golds in Stratford - with Tania and her daughter cheering him on from the stands.
"I dreamt of becoming an Olympic champion and to do it twice in your country with a stadium of 80,000 people shouting your name, it doesn't get better than that," he said.
"Then for my wife to have two healthy little girls, well there's no way to describe it."
The couple even revealed that, had Tania gone into labour during the Olympics, the news would have been kept secret from Mo - to ensure he could focus on his events.
In a separate interview, Mo talked to the Telegraph about becoming a father for the first time. He said:
"It's completely different. It's out of your control, it was weird, but as a father I'm very proud. To have three kids in the family is going to be exciting," he was quoted as saying.
"If my wife has another two more twins boys I'll be a happy man. It runs in the family, so maybe that's why we're having twins," he added.
Olympic champion Mo Farah has unveiled his twins who inspired him to double gold-winning victory and revealed their names.
During an interview with Hello magazine, the Team GB runner, who took gold in the 10,000m and 5,000m at the London games, detailed about his "incredible" year. Farah's wife Tania had been pictured heavily pregnant in the Olympic Stadium cheering for her husband with his stepdaughter Rihanna.
"It's