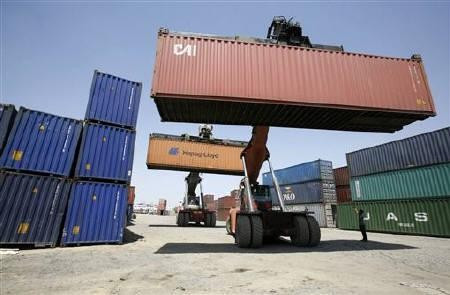 A reduction in India's current account deficit will limit its susceptibility to swings in global financial markets, stated credit rating agency Moody's Investors Service.
"With India, signs of a decline in its high CAD as a percentage of GDP and the make-up of the government's debt profile limit the extent of sovereign exposure to global financial market volatility," Moody's said in a report.
India's current account deficit (CAD), whereby the value of goods and services it imports exceeds the value of goods and services it exports, dropped to $4.2bn (£2.5bn, €3bn) or 0.9% of gross domestic product (GDP) in the fiscal quarter ended in December. This is the lowest level in eight years. The decline was due to rising exports and measures to rein in huge gold imports.
CAD narrowed to $31.1bn or 2.3% of GDP in the last nine months of 2013, from $69.8bn or 5.2% of GDP in the same period a year ago. It had touched a record-high of $88.2bn or 4.8% of GDP in fiscal year 2012-13.
Alarmed by the high levels of CAD, India's government and its central bank undertook various measures to reduce it. The government had increased customs duty on gold imports for a third time in 2013 to 10%, while the Reserve Bank of India imposed a series of curbs on inward shipments of gold.
Finance minister P Chidambaram said the CAD will be contained at $45bn in financial year 2013-14. He added that the country's exports would touch $326bn in 2013-14, up from about $304.5bn in 2012-13.
Moody's, however, warned that the country's high inflation rate still poses risk. Wholesale price-based inflation declined to a nine-month low of 4.68%, while retail inflation slowed to a 25-month low of 8.1% in February.
The agency rates India's sovereign debt at "Baa3" with a stable outlook.