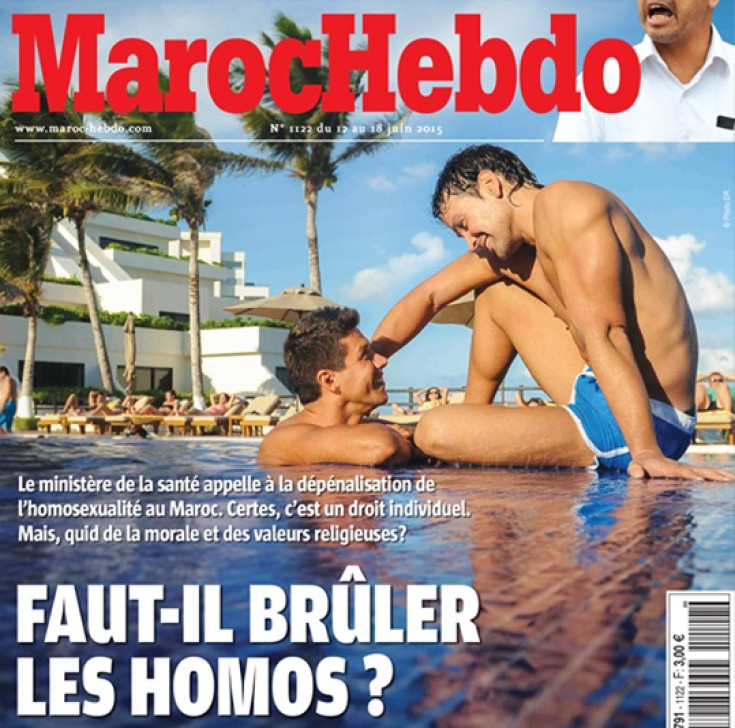 A Moroccan magazine has caused outrage by asking its readers whether gay people should be killed instead in response to a government report calling for the decriminalisation of homosexuality.
Maroc Hebdo's latest shocking front page depicts two men looking into each other eyes poolside, under the headline "Shall we burn homosexuals?".
"Sure, it's an individual right. But, what about moral and religious values?" the caption added.
The publication comes days after the Health Ministry recommended Morocco drops its draconian laws on homosexuality, currently a crime punishable with jail.
The ministry said the policy change would help fight sexually transmitted diseases, such as HIV, as currently some members of the LGBT community don't seek treatment due to the threat of criminal charges.
Maroc Hebdo, a magazine with a circulation of 15,000 (Morocco's most read weekly Al Ayam prints 26,915 copies) is renowned for courting controversy. It infamously titled an earlier issue on immigration from Sub-Saharan countries "The black danger".
The latest stunt however was met with anger online, with many Facebook comments accusing the weekly of fuelling hatred and intolerance.
"Your cover is irresponsible and criminal," wrote user Nzr Tme. "You take the boundaries of disgust to a new level each time. Well done."
Maroc Hebdo was also accused of lifting the cover photo from a LGBT-friendly Mexican resort page on TripAdvisor.
Morocco's anti-gay laws recently came under under scrutiny after two French activists with feminist radical group Femen were arrested and expelled for protesting against LGBT repression appearing topless at a historic site in Rabat.
Earlier in May, rights groups decried the sentencing of three men to three years behind bars each for homosexuality in the north-eastern city of Taourirt.
"Private life is protected under Morocco's 2011 Constitution, and yet the government persists in enforcing the law that criminalises consensual same-sex conduct," Graeme Reid, director of the Lesbian, Gay, Bisexual and Transgender Rights Program at HRW, told IBTimes UK at the time.
"Convictions under this law are unjust. They also damage people's lives because of the social stigma against homosexuality, which the law reinforces. Morocco should immediately stop enforcing the law, pending its repeal."