Ireland votes to legalise same-sex marriage in historic referendum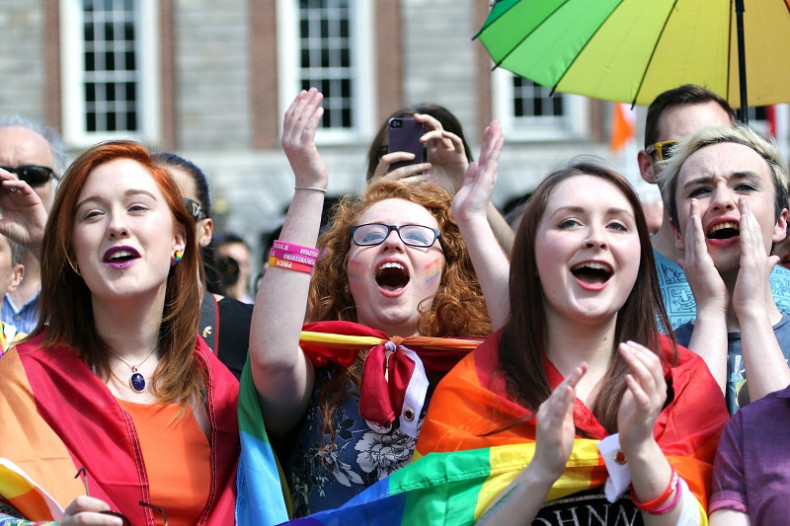 Ireland made history Saturday by becoming the first nation to legalise gay marriage by popular vote.
More than one million people voted in favour across the country, with the turnout at over 1.8m, with only a handful of constituencies still to be declared.
Votes were still being counted at 5.30pm when Irish state broadcaster RTE called the result, but it was clear that the Yes campaign had won a landslide victory with more than 60% of the vote.
Thousands gathered outside Dublin Castle where many couples were proposing to each other amidst a sea of rainbow flags.
In one case, Irish Senator and yes campaigner Katherine Zappone proposed to her partner live on Irish TV.
The results began to trickle in throughout Friday afternoon and showed a landslide for the yes campaign, with a huge turnout and a majority of as much as 74% in some areas of the country.
In Dublin North, over 72% voted in favour and in the city's south-east the yes vote was 74.9%.
But even in rural areas the yes campaign attracted well over 50% of the vote.
A total of 3.2m people were eligible to vote in the poll, with thousands of Irish citizens in the diaspora heading home specifically to cast their vote.
Irish Senator David Norris, who campaigned for legalisation of homosexuality from 1970 to 1983, told the Guardian: "It's wonderful. It's a little bit late for me… I've spent so much time pushing the boat out that I forgot to jump on… but it's very nice to look at."
The campaign had at times been acrimonious, but momentum built quickly among the young for a yes vote and all Ireland's political parties endorsed the changes.
Only the Catholic Church held out against the changes to the law, but on Friday the main leaders of the no campaign had admitted early on that it was a lost cause.
Many prominent celebrities both inside and outside Ireland got behind the yes campaign, including singer Ed Sheeran, who tweeted his support to his 13.8m Twitter followers on Friday, and Stephen Fry, who referenced Irish writer Oscar Wilde, who was convicted of sodomy in 1895.
Swimmer Tom Daley and writer Salman Rushdie also congratulated Ireland on the result.
In his final live televised interview ahead of the opening of polling stations, Ireland's prime minister, Enda Kenny, urged voters to vote yes "for love and for equality".
The referendum was being held 22 years after homosexuality was decriminalised in Ireland.
Although the country legalised civil partnerships in 2010 they were not protected under the country's constitution, unlike marriage.
It is estimated that the first same sex marriage could take place in Ireland before Christmas, as soon as the Irish government passes an amendment that inserts a new sentence into the Irish constitution which reads: "Marriage may be contracted in accordance with law by two persons without distinction as to their sex."
The no campaign had argued that enshrining gay marriage under the constitution would make it a constitutional right for same-sex couples to have children, which it claimed opened up questions relating to adoption and artificial insemination.
The no vote triumphed in only one constituency, attracting 51.42% in Roscommon-South Leitrim. In others, it was close: in Kenney's home constituency of Mayo, the split was 52% to 48%.
Same sex-marriage laws came into force in England and Wales in March 2014, but the devolved government of Northern Ireland has no plans to introduce similar legislation.
Same-sex marriage is currently legal in 19 nations across the world, but previous referendums on the issue in Slovenia and Croatia have both resulted in 'no' votes.