Moto 360 Review: Style and Substance but Still Not Time for the Smartwatch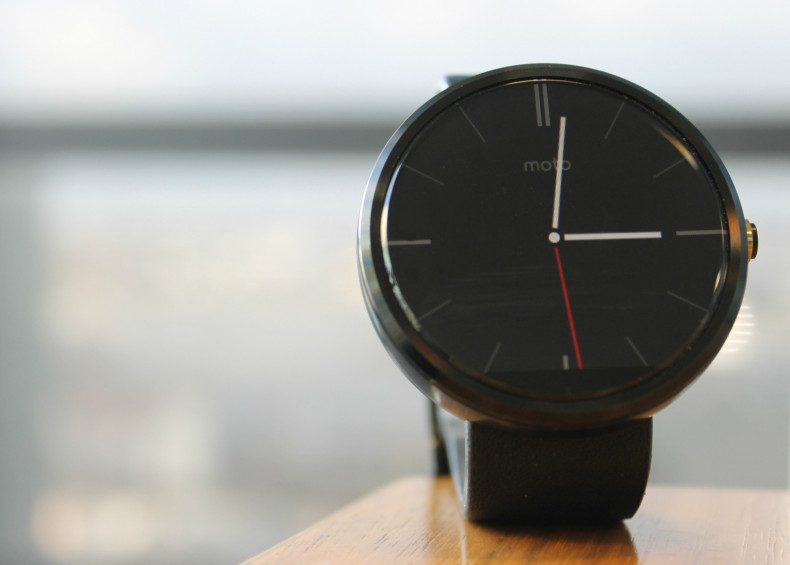 Moto 360 Key Features:
1.56in display, resolution 320 x 290.
Bluetooth 3.0.
Wireless charging.
One-day battery.
Water resistant.
Price: £200.
Moto 360 review
More than any other smartwatch currently on the market, the Moto 360 actually looks like a watch. A simple design combined with an intuitive interface makes it easy to use and stylishly inconspicuous to wear.
However, like so many other wearable gadgets currently on the market, Motorola's first smartwatch falls short in some basic areas - begging the question: is the Moto 360 simply a case of style over substance?
---
Moto 360 Design
---
Ditching the rectangular design favoured by most other smartwatch makers, the Moto 360's round face and simple leather strap fit comfortably on the wrist and it doesn't scream 'smartwatch' when you're wearing it.
For the most part, I actually found myself using it simply as a timepiece - a function it performs admirably compared to some smartwatches.
One slight drawback in its design is the seam between the screen and the outer metal ring, which tends to attract bits of dirt and pocket detritus that are then almost impossible to shift.
---
Moto 360 Screen
---
The subtle design doesn't mitigate the fact that the screen is quite large, as is required for a smartwatch to function properly. For the slim-wristed amongst us, the Moto 360 appears comically large and its thick face makes it feel more like an electronic tagging device.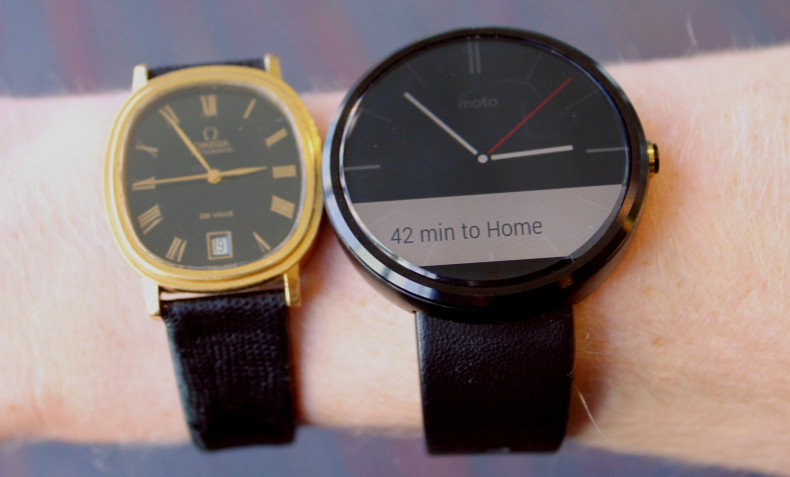 The round face - the first ever smartwatch to adopt this design choice - is only interrupted at the bottom where a squared-off section houses a light sensor. This allows the screen to automatically adjust its brightness depending on the environment.
A decent range of interchangeable faces has something for most tastes - from the many dials favoured by deep-sea divers, to the digital numbers preferred by those who can't read analogue clocks.
---
Moto 360 Software
---
The Moto 360 is an Android Wear device, meaning it pairs with smartphones running versions of the Android mobile operating system.
Without tethering it via Bluetooth to another device it still offers some limited functionality, including counting your steps, measuring your heart rate, and of course, telling the time.
Connected to your phone it becomes an extension of your handset, pinging notifications from social media, emails, phone calls, and pretty much any other piece of information that your smartphone provides.
However, generally speaking, the notifications are hit and miss. The Moto 360 gives you the info it thinks you need but doesn't allow you to take any actions without reverting back to your smartphone. Moreover, some of the notifications seem to come at you from out of nowhere, often letting me know I'm "40 minutes from home" when I'm sitting at my desk in the middle of the day.
It is not possible to carry out most tasks using the smartwatch alone, forcing you to revert back to your phone to make a phone call or read a message in its entirety
Another pitfall appears when it comes time to use the voice control feature. The Moto 360 doesn't seem to work as well as any smartphone in this regard, and this often leads to rather peculiar misunderstandings: when I tried to call my friend 'Jacek', it seemed to think I wanted to search for 'dad sex'.
There are still many useful and convenient functions that can save a second or two if you don't have your smartphone in your hand, including asking currency conversions, different time zones, and general trivia - so long as it understands what you're saying.
---
Moto 360 Battery life
---
This is where this smartwatch really falls down. A full charge only lasts a day, and I don't mean a 24-hour period of time - I mean that if you put it on your wrist in the morning fully charged, by night time it will be dead.
While battery life is one of the main stumbling blocks for all smartwatches right now, against rival devices such as the Sony Smartwatch 3 or Samsung Gear 2, which both offer two to three days of heavy usage, the Moto 360's battery is pitiful.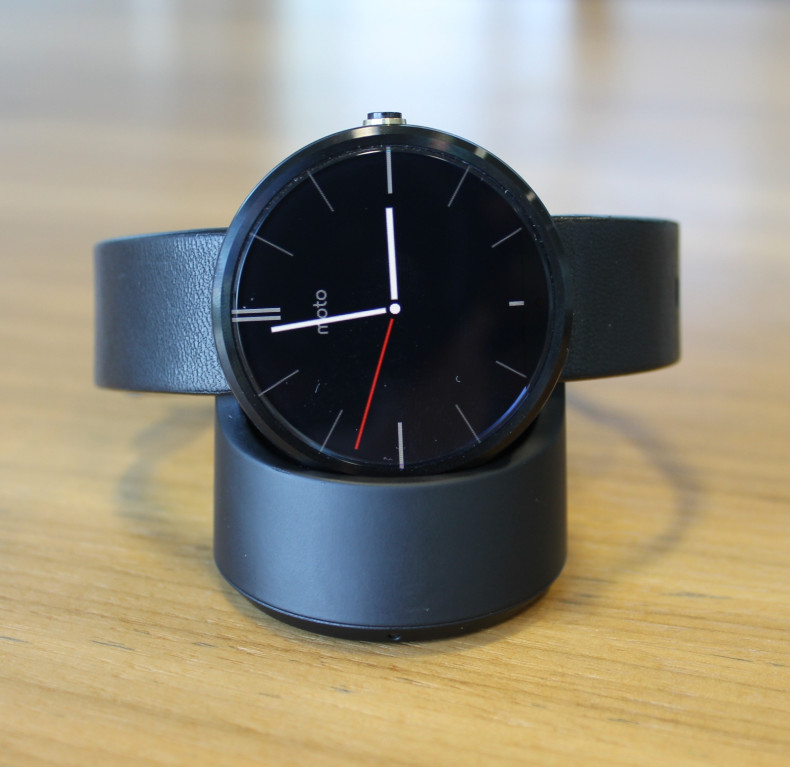 The limited battery life renders some of its features utterly useless, such as the alarm clock function that vibrates on your wrist to wake you.
The only slight compensation is that it comes with a wireless charging stand that allows the Moto 360 to double nicely as a bedside clock.
---
Moto 360 Cost and Review Conclusion
---
The Moto 360 is arguably the flagship smartwatch of the increasingly crowded Android Wear space, and at £200 it is certainly the most expensive.
While it's an attractive device with respectable functionality, there are still some major teething problems to be overcome.
The biggest disappointment is the battery life, which renders many of its core functions redundant when you can't wear it 24 hours a day. This is a problem for many smartwatches, but none more so than the Moto 360.
Android Wear is still in its infancy and comparing Motorola's first smartwatch to others currently available makes it stand out as one of the best - but currently its the best of a bad bunch.
Moto 360 Review Scores
Design: 10/10 - A discreet and attractive design and perhaps the only one that could actually be mistaken for simply a watch.
Build Quality: 9/10 - A sturdy device that is comfortable to wear and light on the wrist.
Screen: 9/10 - Automatic brightness adjustment adds to an already exceptional screen.
Software: 6/10 - Quick and decent functionality let down by poor voice commands and notifications.
Value: 7/10 - The most expensive smartwatch currently on the market.
Overall: 7/10 - Excellent hardware let down by average software and poor battery life.
The Good
Light, simple, and sturdy design.
Looks like a watch, not a computer.
Wireless charging.
The Bad
The most expensive smartwatch on the market.
Dire battery life.
Relies too heavily on its companion smartphone.