Motorola's first Android smartphone to use an Intel chip has been announced with the RAZR i featuring a 4.3in screen and Kevlar casing.
The RAZRi is a modified version of the Motorola RAZR M which was launched in the US earlier this month. While keeping the "edge-to-edge" 4.3in screen and Kevlar backplate, Motorola has put a 2GHz Intel Atom chip inside the RAZRi rather than the 1.5GHz Qualcomm processor seen in the RAZR i.
Motorola announced its intention to work with Intel at CES in January of this year, and the RAZR i is the first result of that deal. The smartphone market is dominated by ARM-based chips from the likes of Qualcomm, Broadcom, Samsung and Texas Instruments.
Intel is looking to get in on the mobile market, especially as the traditional PC market stagnates. The first phone availablle in the UK with an Intel chip was the Orange San Diego, which was launched earlier this year.
The Intel Atom chipset powering the RAZR i features a single-core processor, but Intel and Motorola claimed at the launch event in London this morning that becasue of Intel hyperthreading technology - which makes the processor more efficient - it will out-perform rival's dual-core models.
The phone features a 4.3in "edge-to-edge" AMOLED display which, despite the description, does have a bezel, though it is very narrow. The phone will come pre-loaded with Android 4.0 (Ice Cream Sandwich) and will come with a 2000mAh battery.
Battery life is one area Intel beleives it can have an advantage over ARM-based chips, with the company claiming 40 percent better battery life than previous models with 20 hours of battery life.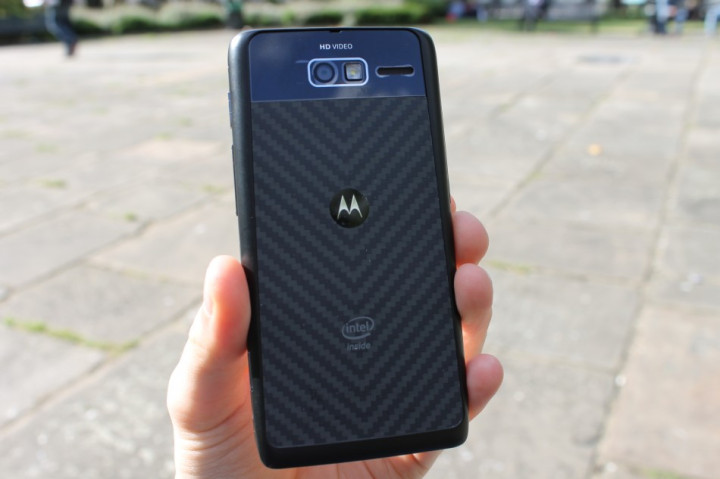 The phone is 8.3mm thick and comes with an 8 megapixel rear camera and 0.3 megapxiel front-facing camera.
"Motorola RAZR i with Intel Inside naturally blends together the value propositions of high performance Intel Architecture and great battery life, Motorola Mobility device innovation and the Android platform," said Erik Reid, general manager, Intel's Mobile and Communications Group. "Intel's goal is to provide compelling technology options that translate into great user benefits and experiences. RAZR i is a great proofpoint in the collaboration and we're thrilled to be working with Motorola to bring this edge-to-edge experience enhanced with Intel Inside to people around the world."
The Motorola RAZR i, which will be available from the beginning of October in European and Latin America countries, including UK, France, Germany, Argentina, Brazil and Mexico. In the UK it will be offered by Orange, Tesco Mobile, Virgin Media, T-Mobile and Phones4U.