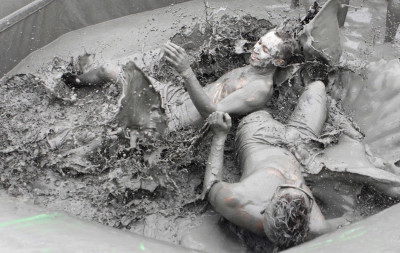 The Mud Festival, being held at Boryeong in South Korea, from 14 July to 24 July is one of the craziest and wildest festivals in the world.
People throwing mud at each other, immersed in pools of mud, for entertainment as well as for healthy skin is what the festival is all about.
The city of Boryeong hosts the Daecheon Beach, famous for its beautifying mud, which is rich in minerals and used to manufacture cosmetics. In order to promote these cosmetics, the festival attendees are allowed to have all the fun in pools of the rich mud. The mud is sourced from mud flats nearby. For the benefit of tourists, there are mud pools, mud prisons and mud skiing competitions. Body painting with beautifully-coloured mud is also promoted as part of the festival.
A mega mud tub is another entertaining feature where scores of people wrestle and swim in a giant tub filled with mud, according to MSNBC. There is also a mud massage zone where people, mostly girls, immerse themselves in mud, to energise their skin. For girls, it is mostly like attending skin rejuvenation therapy at a spa.
About two to three million domestic and international tourists visit the beach during the annual festival, according to the festival organisation.
The 15th annual mud festival kick-started with millions of people splashing almost 200 tonnes of greyish mud on each other. According to Liligo, the festival first started in 1998 but by the time 2007 rolled around it was already attracting more than two million people to the town of Boryeong, just 200km south of Seoul. The festival is even termed as a "mud experience land".
The biggest mud wrestling and mud swimming events are seen towards the end of the festival which is accompanied by fireworks.
Check out the rarest and exciting photos of the mud festival attendees having fun: