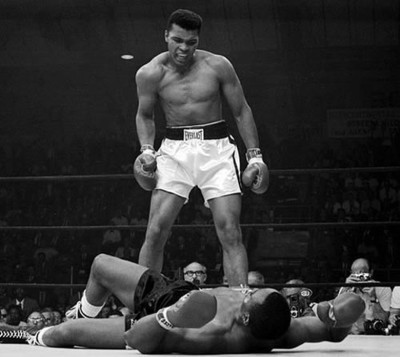 He may have reached a humbling milestone in his life but as he reaches his 70th birthday boxing champ Muhammad Ali remains as determined as he was when he entered the ring many years ago.
But this time he has a different fight on his hands. For the last three decades Muhammad Ali has fought Parkinson's disease the way he fought his greatest boxing opponents - never giving an inch and with his loved ones right behind him.
When the three-time World Heavyweight champion attended a private bash in his honour in his Kentucky hometown of Louisville he was surrounding by fans and admirers and, most importanty, those closest to him, his wife Yolanda and his children.
They were there for him just as he has been there for them. As he leaned against a railing and raised his right hand to wave to the expectant crowd, they provided the physical support that his ravaged body now needs.
"It's not like he doesn't look like himself," said his oldest daughter, Maryum "May May" Ali. "It's the same face, the Parkinson's hasn't affected that.'"
In his heyday, Ali, like most men with power, became a magnet for the opposite sex. He fathered several children through different women before he changed his ways and settled down into a fulfilling marriage with his current wife of 25 years.
He has been married four times and is father to seven daughters and two sons.
The great fighter met his first wife, cocktail waitress Sonji Roi, just a month before they tied the knot, on 14 August, 1964. It was not to last and the couple divorced just two years later. According to reports, Roi's objections to certain Muslim customs of Ali's regarding dress for women contributed to the breakup.
He later married Belinda Boyd, in 1967, and had four children with her - Maryum, Jamilla, Rasheda and Muhammad Ali Junior. Their marriage collapsed in 1977 after Ali started an affair with Veronica Porsche, an actress and model.
Just months later, by the summer of 1977, Ali married Veronica, who had already given birth to a baby girl named Hana, and was pregnant with their second daughter, Laila. In 1986, Ali and Veronica divorced.
On 19 November, 1986, Ali married Yolanda Ali who he had known since he was 22 and who still lived in Louisville. They have one son, Asaad Amin, who they adopted when Amin was five
Ali has two other daughters, Miya and Khaliah, from extramarital relationships.
During a 2001 documentary Ali's daughter Hana said of her father's relationship with his nine children: "He claims all of his kids. He's always a father to all of his kids."