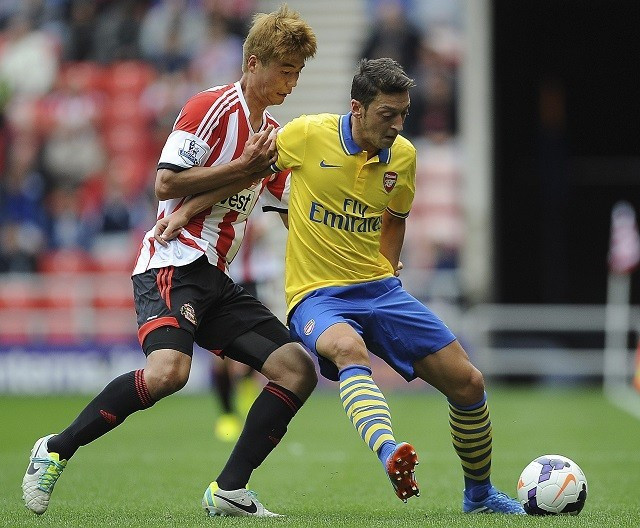 Bayern Munich star Thomas Muller claims Arsenal midfielder Mesut Ozil is finding it difficult to adopt in England without the winter break.
The 25-year-old arrived for a club-record transfer fee of £42.5m from Real Madrid last summer. The German international had a brilliant start to his career with the Gunners, but has failed to find form in the last few months.
Ozil missed a chance to give his side a lead as he missed a penalty during Arsenal's 2-0 defeat to Bayern in the 2-0 first leg Champions League fixture at the Emirates.
The German midfielder has made 36 appearances in all competitions for the Gunners, which includes 34 starts.
Arsene Wenger dropped Ozil during the north London side's 4-1 home win over Sunderland in the league. Despite the tight schedule in the Premier League, Muller has backed Ozil to regain his top form for the Gunners.
"It's not easy for Mesut because you have to play so many games - I don't know how many games he has played for Arsenal without having a break," Sky Sports quoted Muller as saying.
"In the Bundesliga we have just had a month off. In England it's very hard to be a professional footballer. You have any more games than we do in Germany. But I hope Mesut has good games for Arsenal because he is a friend of mine and I know how good he can be."
Muller believes the Premier League's tight schedule has hampered Ozil's form. The German star admitted that with no break in the winter also has its impact on England national team at big stages.
"When England get to World Cups they look a bit tired. The body can recover but the head's another story," Bayern star concluded.
Muller scored the second goal during the treble winners 2-0 victory over Arsenal in the first-leg of the Champions League tie earlier this month. Bayern are the European champions and the German attacker will be hoping that his side can progress to the quarter finals of the competition, by avoiding an upset in the reverse leg in March.