The long Christmas weekend began with a spectacular view for the residents of southern California as they were treated to a mysterious unidentified flying object in the dark winter sky on 22 December, Friday.
The flash of bright light jetting across the night sky, stunned several Los Angeles residents. The mysterious object took the shape of a giant jellyfish in the sky, with a huge glowing tail.
The stunning tail, which many were convinced was a UFO, actually turned out to be a "contrail from the SpaceX Falcon 9 rocket that was scheduled to lift off from Vandenberg Air Force Base this evening". Comments about the astounding light show soon made it to Twitter, with many celebrities expressing their astonishment.
"#Aliens are landing!!! This sighting above @UniStudios by @iAmLettyB!!! Some say it's #SpaceX, I say #UFO," Radio Personality JoJo Wright chimed in on the micro-blogging website as she shared the stunning view of the SpaceX rocket.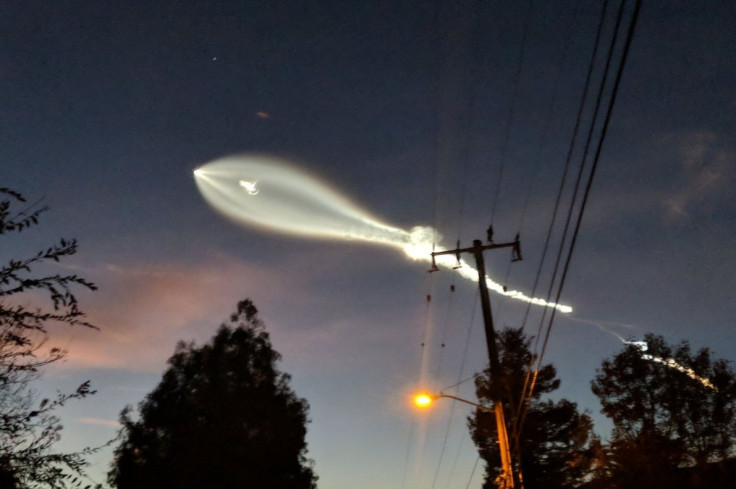 "LA...what the heck is this weird jellyfish thing going across the sky right now," actress Jenna Fischer wondered. TV personality Lisa Vanderpump made a comical "end of the world" jibe following the bizarre sight and tweeted: "I apologized for everything I said about u, thought they would be my last words @KyleRichards. I take it back."
The 53-year-old singer-songwriter Courtney Love hilariously held SpaceX boss Elon Musk responsible for bringing the aliens to Earth. "@elonmusk is taking us into the future. Watch out universe, here come the weirdest aliens you've ever seen, us," she tweeted.
As the light appeared right before Christmas, many joked it was Santa's ride. "It's Santa Clause of course. Doing a dry run before the big event" wrote one. "Merry Christmas to The Universe," said another.
The Ventura County Sheriff's Department released a statement on Twitter, confirming the SpaceX launch and urged people to calm down. "SpaceX rocket launch from Vandenberg was the flash you saw in the sky! No cause for concern," they tweeted.
The Tesla and SpaceX CEO also made a jibe on the online frenzy and shared the video with the caption: "Nuclear alien UFO from North Korea." Replying to one user's UFO or rocket debate, Musk hilariously said: "It was definitely aliens."
Singer Chris Brown said he was not buying Musk's SpaceX Falcon rocket launch explanation. "Don't let the loosers fake you all. They would have announced it early if it was a f******g satellite," he said in a video message and even shared a clip of the UFO. In one photoshopped post, he speculated the glowing object was Santa speeding off on his sleigh.