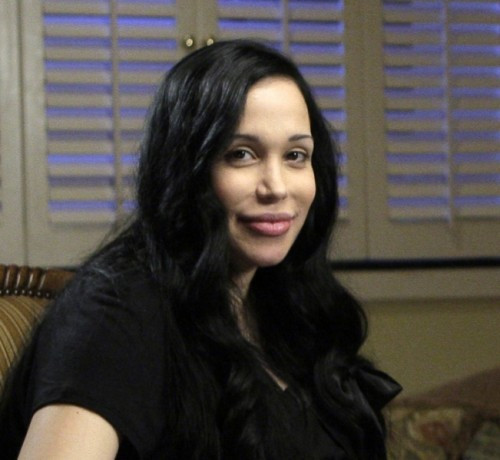 Nadya Suleman, more popularly known as the Octomom, has found new love in her life. The 36 year old has reportedly been dating a 23 year old amateur body builder, Frankie G, for the past couple of months and things are getting serious between them. A TMZ report caught Frankie G waiting to receive Suleman at the Los Angeles airport.
Incidentally, when asked how the two met, Octomom replied: "through church". The duo was also pictured together earlier this month when she came to support him at one of his competitions.
The report seems to contradict Octomom's own statements, made a few months ago, to remain celibate for her children's sake.
"I've been celibate for 13 years and plan to remain so until the octuplets are 18," she told Closer magazine in March, "Men love me, but I will be celibate for the next 15 years."
When asked about the age difference, Suleman said it was not a problem.
"My mind is 16," she was quoted as saying by the Daily Mail.
Frankie, meanwhile, agreed that while dating a woman who was a mother of 14 could be tough at times, he was happy with her.
"It has its moments. Obviously she has a lot of kids but it's wonderful and I enjoy it. She's a wonderful person, she has a good heart," he said.
Suleman has changed her own statements several times in the past. She once declared she would never step into the adult industry for the sake of money but had to give in later - she posed nude for a magazine and filmed her first porn video.
The world first noticed Suleman in January 2009, when she gave birth to octuplets at a Southern California hospital. She has 14 children, all of whom are the result of in-vitro fertilization. However, her six older children all have disabilities - one is autistic, another has Attention Deficit Hyperactivity Disorder and the third a speech impediment. The older children range in age from five to 10 and she receives government financial support. Unfortunately, she was also declared bankrupt with total debts as high as $1mn.