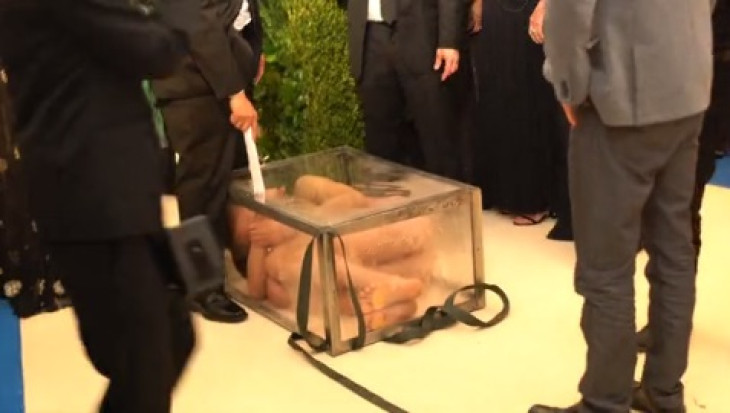 While the world had its eyes trained on 2017's Met Gala carpet for celebrities pushing the satorial envelope – flashing flesh and getting away with it – the fashion world's biggest event of the year saw an uninvited guest arrive naked, steal the spotlight and promptly get arrested.
Russian performance artist Fyodor Pavlov-Andreevich was arrested on May, after he gatecrashed the Metropolitan Museum of Art fundraising event.
Curled up naked in a fibreglass box, the artist was dropped off at the star-studded gala by friends. However, he reportedly refused to heed demands to get out of the box and firefighters had to be called in to break open the container.
The box immediately drew the attention of bemused guests at the Met Gala, prompting guards to cover it with a white sheet before dragging it out of the venue. Soon the police were called in and Pavlov-Andreevich was arrested on charges of "public lewdness, obstructing governmental administration, criminal trespass and disorderly conduct," the New York Daily News reported.
Onlookers claim that the box was relatively small for a six-foot human to comfortably stay inside for long. "He was huge," Ayesha Hakki told New York Daily News. "After that everybody waited for Beyoncé to arrive but she didn't and the night of celeb spotting was done," she added.
The controversial artist was summoned and released by court on Tuesday evening.
After his release, Pavlov-Andreevich posted a video on Facebook showing him being bolted inside the tiny box before being transported to the high scale event at the art institution. The artist claims the stunt is part of a five-episode Foundling series that "took place around the world in the cities of a big importance in terms of art".
"The following part of the performance is to see how the institution reacts to the passive harmless box with an artist inside," the post reads. "If anyone cares about the box's fate, it's under arrest as well. After all, it took part in all five performances and has quite travelled around the world."
He is expected to attend court for a hearing on the case on 5 June.