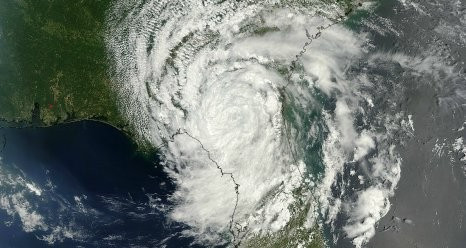 A number of Nasa centers have joined forces with federal and university agencies to study about hurricane formations and intensity changes in the Atlantic Ocean basin.
An unmanned aircraft called "severe storm sentinels" will be sent above stormy skies to help forecast the hurricance season for the year 2012, according to Nasa.
Earlier, on 24 May, the National Oceanic and Atmospheric Administration (NOAA) predicted a near-normal hurricane season in the Atlantic Basin.
The NOAA predicted that the hurricane season which starts from 1 June, there is a "70 percent chance of nine to 15 named storms (with top winds of 39 mph or higher), of which four to eight will strengthen to a hurricane (with top winds of 74 mph or higher) and of those one to three will become major hurricanes (with top winds of 111 mph or higher)".
Nasa's unmanned Global Hawk aircraft is well-suited for hurricane investigations as it can over-fly hurricanes by reaching altitudes higher than 60,000 feet with flight durations of up to 28 hours. This is otherwise almost impossible for piloted aircrafts to achieve.
Global Hawks were used in the agency's 2010 Genesis and Rapid Intensification Processes (GRIP) hurricane mission and the Global Hawk Pacific (GloPac) environmental science mission.
"Hurricane intensity can be very hard to predict because of an insufficient understanding of how clouds and wind patterns within a storm interact with the storm's environment. HS3 seeks to improve our understanding of these processes by taking advantage of the surveillance capabilities of the Global Hawk along with measurements from a suite of advanced instruments," stated Scott Braun, HS3 mission principal investigator and research meteorologist at Nasa's Goddard Space Flight Center in Greenbelt, Maryland.
For the purpose of investigation, HS3 will utilise two Global Hawk aircraft and six different instruments this summer flying from a base of operations at Wallops Flight Facility in Virginia.
The prime purpose of the study is to analyse the controversial role of the hot, dry, and dusty Saharan Air Layer in tropical storm formation and intensification. It will also examine the extent to which deep convection in the inner-core region of storms is a key driver of intensity change or just a response to storms finding favorable sources of energy.