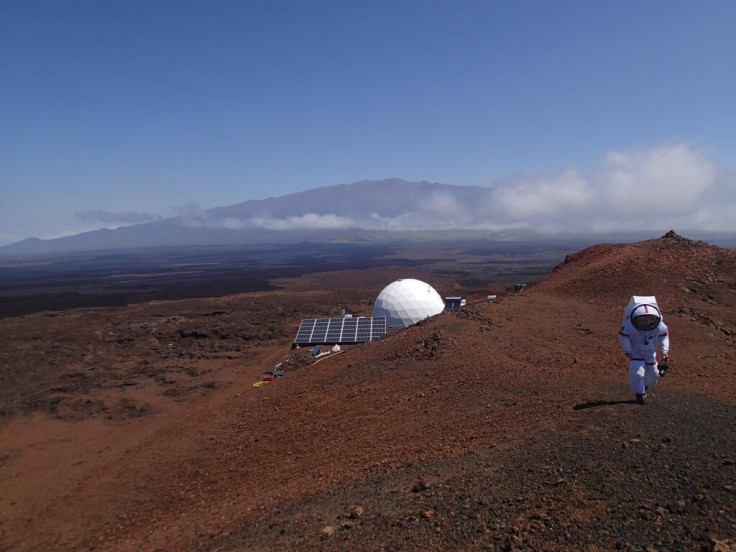 A team of Nasa recruits has started a year of living in a dome near a Hawaii volcano to simulate what life would be like for astronauts on Mars. The group began the isolation experiment on Friday, 28 August, and now face 365 days without fresh air, food or privacy.
The group – made up of a French astrobiologist, a German physicist and four Americans; a pilot, an architect, a doctor/journalist and a soil scientist – are based on a barren, northern slope of Mauna Loa, Hawaii. They are living in a self-contained solar-powered dome, which measures only 36ft (11m) in diameter and is 20ft (6m) tall. It is estimated that the first human mission the Red Planet could last between one to three years.
The men and women will each have a small sleeping cot and a desk inside their rooms and will be eating food such as powered cheese and canned tuna. The group has limited access to the internet, and must wear a spacesuit if they want to venture outside.
Scientist and journalist Sheyna Gifford, who is taking part in the experiment, described the team as "six people who want to change the world by making it possible for people to leave it at will" in a post on her blog. She also tweeted a picture of the group: "The Best crew on the planet is now "off the planet". Follow the space adventure @HI_SEAS & http://livefrommars.life."
She also posted a photo of her first meal on Mars. "First dinner in simulated space: the cheese & turkey quesadilla & all the veggies were all dehydrated 30 min ago."
The project's principle investigator, University of Hawaii professor Kim Binstead, told Sky News: "The longer each mission becomes, the better we can understand the risks of space travel. We hope that this… mission will build on our current understanding of the social and psychological factors involved in long-duration space exploration and give Nasa solid data on how best to select and support a flight crew that will work cohesively as a team while in space."
The HI-SEAS project has already seen recruits conduct four-month and eight-month isolation experiments in the dome. This is the longest mission to date and the first full-year of its kind to be sponsored by Nasa.
Researchers will monitor the team's performance by using cameras, body movement trackers and electronic surveys, and other methods. They will also focus on the physiological, social and physical effects of living in a closed habitat, the technical and scientific challenges of the journey and the human element of exploration.