Natwest has confirmed it is aware of the problem to its online banking service which affected its website and payments being made.
The company, in a tweet from its customer service account, confirmed the issue which many people had reported on social media, saying: "We are aware of an issue with the online banking service, our tech team are investigating this as a matter of urgency."
There is no indication why the online banking service is offline, but according to earlier posts on its Twitter account the website of the bank was running slowly for many people, while others say they cannot access it at all.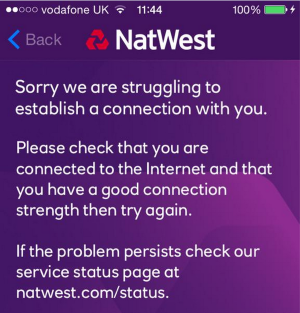 Those attempting to access Natwest's online banking through their mobile app are seeing messages like the one on the right, which suggests that the problem exists with the servers Natwest is using.
IBTimes UK spoke to a Natwest spokesperson who said the matter had been resolved and had lasted just 50 minutes.
While some people have reported problems accessing their account, many customers are able to access the site but have reported that payments including salaries have not gone through.
In June 2015 a total of 600,000 transfers were affected by a technical glitch in RBS Group banks RBS, Ulster, Coutts and NatWest, leaving thousands of customers without benefits, wages or other payments. This was the the fifth outage for the group in three years.