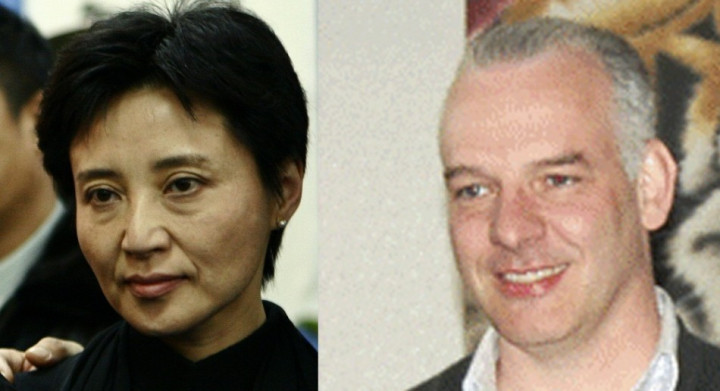 Gu Kailai, who has been accused of murdering of British businessman Neil Heywood, is alleged to have confessed to poisoning him, according to American diplomats.
Wang Lijun, the former chief of police in Chongqing, told US officials that Kailai, wife of disgraced career politician Bo Xilai, had confessed to the killing with the words: "I did it."
Wang is believed to have told diplomats about Gu's alleged confession at the US consulate in the nearby city of Chengdu in February.
He is said to have told the diplomats that Heywood, 41, was held down in a Chongqing hotel room in November and forced to drink cyanide by Gu and a friend of her husband.
A diplomatic source told the Daily Telegraph: "Gu said 'I did it' three times to Wang."
"[The murder] was a gruesome scene Heywood spat the cyanide out and they had to give him more," the source said.
The death of Heywood has brought down Bo, who many believed would be promoted from the Communist Party's top official in Chongqing to China's next leader.
There have been rumours circulating in China that the Communist party has been leaking information on Heywood's death in a bid to smear Bo's political campaign.
Bo has been suspended from all duties, effectively ending his career in politics.
Recent claims have also suggested that Gu had Heywood killed after he threatened to expose her plans to illegally move huge amounts of money abroad.
Local media claimed that Heywood had helped Gu siphon nearly £800m of assets overseas.
An earlier theory suggests Bo had Heywood killed because he was having an affair with Gu.
"Bo and Gu Kailai had not been a proper husband and wife for years. Gu Kailai and Heywood had a deep personal relationship and she took the break between them deeply to heart," said Wang Kang, a well-connected Chongqing businessmen who said he had learned some details of the case from government officials.
David Cameron to Discuss Neil Heywood Death with Chinese Official Li Changchun