Press photographers got their first glimpse of Heathrow's brand new Terminal 2, due to open to the public on 4 June. The interior of the vast space is dominated by a huge, twisting aluminium sculpture called Slipstream, by renowned British artist Richard Wilson.
Slipstream is set to become one of Britain's most viewed public sculptures, seen by 20 million passengers a year. Weighing 77 tonnes and measuring 78 metres long, the sculpture's sinuous aluminium form is inspired by the world of aviation and captures the imagined flight path of a small stunt plane.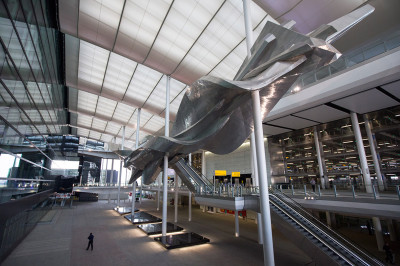 The new Terminal 2 is a £2.5 billion development by Spanish architect Luis Vidal and has taken five years to complete. The building has an undulating steel framed roof which floods the building with natural light.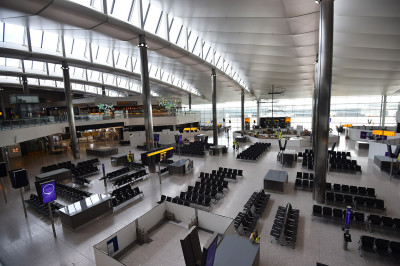 The old Terminal 2, opened by The Queen in 1955, was demolished after 54 years of service. It was Heathrow's first terminal, originally called the "Europa Building" and was designed to deal with 1.2 million passengers a year. By the time it closed in 2009 it was handling 8 million passengers a year.
Heathrow has invited Her Majesty The Queen, accompanied by His Royal Highness The Duke of Edinburgh to officially open her new Terminal on the 23 June.