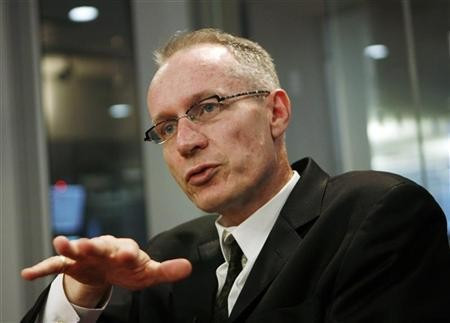 News Corporation has appointed Robert Thomson, managing editor of the Wall Street Journal and editor-in-chief of Dow Jones, as the chief executive of its new publishing business, as the media giant is shaken up by its owner and boss Rupert Murdoch.
As part of the company's new strategy, triggered in part by phone hacking and corruption scandals engulfing its UK newspaper business News International, News Corp is being split into two, with publishing on one side and entertainment on the other.
"This is an incredibly exciting time, for me personally, and for our companies' ambitious futures," said Murdoch.
"The challenges we face in the publishing and media industries are great, but the opportunities are greater."
Murdoch will head up the entertainment side, which will be called Fox Group. The publishing business will remain as News Corp.
"Rupert has been the driving force behind the renaissance of The Wall Street Journal and Dow Jones - which have enjoyed readership and revenue growth in a complicated and evolving media market - and we intend to lead a broader revenue renaissance for quality content," said Thomson.
"I am looking forward to working with him and our colleagues around the world to use the company's esteemed past as a platform for the future. The global value of content is growing as the means of digital distribution multiply, providing us with a remarkable opportunity to profit from our employees' ingenuity and integrity.
"We have a collection of extremely successful companies, and our goal is to make the new News Corp far more than the sum of its distinguished parts."
It was also announced that Tom Mockridge, chief executive of scandal-hit News International, will stand down from his role at the end of the year.
He was considered a candidate for the top job at Murdoch's new publishing division, but was passed over in favour of rival Thomson.
As well as Thomson's appointment, News Corp announced the closure of its title The Daily, a 22-month old iPad-only digital project once lauded by Murdoch as the potential future of his news operation in a world where the printed press is in terminal decline.
"From its launch, The Daily was a bold experiment in digital publishing and an amazing vehicle for innovation," said Murdoch.
"Unfortunately, our experience was that we could not find a large enough audience quickly enough to convince us the business model was sustainable in the long-term.
"Therefore we will take the very best of what we have learned at The Daily and apply it to all our properties."
The Daily will cease publishing on 15 December.
---
Follow @shanecroucher